Update February 3rd, 2021 – 6:09pm EST:
We are pleased to update you that the warning messages you may have seen earlier on your browser were cleared as of 6:09pm EST.
To clarify, TitanFile did not have any service outages or security incidents. Earlier this afternoon, Google misclassified TitanFile login pages with a warning message. The TitanFile Support team immediately submitted a request for review with the appropriate team at Google, as a result Google has reversed the warning and corrected the issue with login pages.
We sincerely apologize for any inconvenience this may have cause you and your clients.
On February 3rd, 2021 at 2:36pm EST, without warning, Google incorrectly flagged some webpages on TitanFile.com as "deceptive content." This classification applied primarily to pages where our clients opted to use their logo and branding on the page, such as custom login pages.
As a result, you may see the following message when trying to access TitanFile.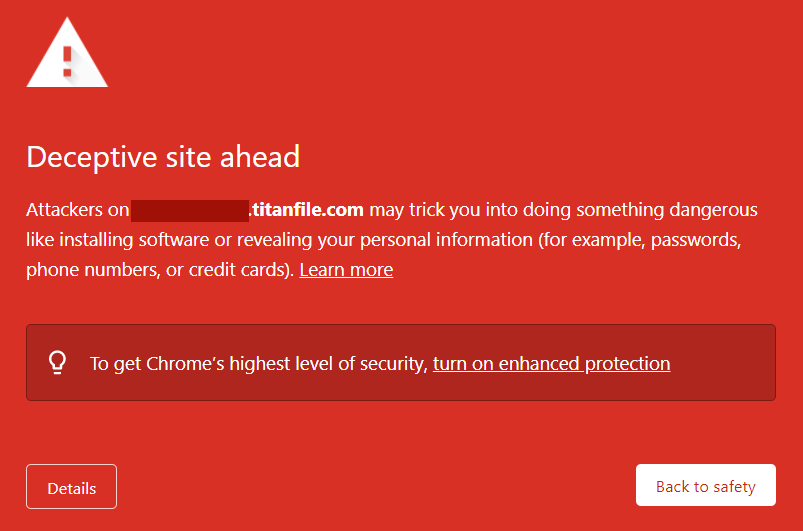 Why this is happening:
As part of Google's anti-phishing efforts, Google regularly crawls web pages on the internet to detect content that may be suspected of containing "social engineering" attacks. Social engineering is content that tricks visitors into doing something dangerous, such as revealing confidential information or downloading software.
More information about this warning can be found at Social Engineering (Phishing and Deceptive Sites).
Google has incorrectly classified TitanFile client-branded pages as potentially containing social engineering. This classification is incorrect because our clients provided us with their custom branding messaging and logos, and all such custom branding is used with permission from, and at the direction of our clients.
Our team has already started measures to address this error:
TitanFile is committed to helping fight social engineering and phishing online, and protecting the security and privacy of our clients and their customers.
We are in contact with Google to review the affected pages and classify them as safe pages.

We are updating all client-branded login screens to clarify that users are visiting a page hosted by TitanFile, and not the client's service
We will continue to provide updates until this has been resolved.