Advancements in legal technology have created opportunities for law firms to modernize how they do business. Clients are increasingly demanding higher agility and flexibility in the delivery of legal services. The growing concerns over privacy and security have put stringent requirements on the digital tools law firms adopt.
---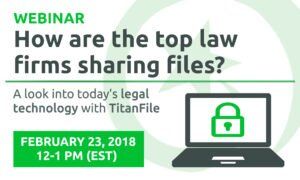 On February 23, 2018 from 12-1 pm (ET), TitanFile will be holding an informative and eye-opening webinar covering topics such as:
The benefits of using a secure file sharing
Where does file sharing fit within the legal technology toolkit?
Top 10 features of secure file sharing for legal – product checklist
How to evaluate cloud vendors
We are welcoming legal technology professionals of all levels of expertise to attend this webinar and raise their awareness and knowledge of the legal technology space.