For both Canada and the United States, long weekends in May signify the unofficial start of the summer season. They get people thinking about good times ahead. After long winters, hectic school schedules and general life chaos, summer has everyone excited about barbeques, beaches and relaxing.
So when you finally get to take that big vacation, it's only natural to want to share the experience. Check-ins at museums, photos of your meal at roadside diners and Tweets that give updates on the progress of your road trip are exciting to share. They let your family and friends know what you're up to and give you an electronic log of your experiences to reflect back on. But sharing can also have a dark downside.
There are dangers to providing consistent updates on your whereabouts and activities, including inadvertently advertising the fact that you've let your home unattended for an extended period of time. Interested in protecting yourself from on and offline snoopers while on vacation? Here are three things to keep in mind before you post that Instagram snap:
Do protect your home: Whether or not you've shared details of your trip online, it's always a good idea to make arrangements with friends or neighbors to have someone check your mail and collect any packages that arrive so that you're not advertising your absence. Having cars in your driveway and obvious activity happening around your house can act as a deterrent for those looking for an easy break-in.
Don't share your destination: Before taking a trip, many people take the time to contact their credit card provider to share trip details and ensure that their card won't be cancelled should charges appear in far-flung locations. If you're revealing information on cities you've visited you could unknowingly be facilitating credit card fraud. Fraudsters can plan to use your information in cities they know you're visiting in hopes that you, and your credit card provider, might not notice an extra charge.
Do update your security settings: If you keep your social networks wide open for public consumption, create a more locked down experience by blocking access to the general public while you're away. In the end, the best practice for keeping yourself safe is waiting until you're home to share your exciting pictures and stories in person.
You've worked hard for your vacation. Don't let criminals exploit your good times – be diligent at censoring what you share online.
Do you have any other online safety tips for vacationers? Let us know in the comments below.
Share files and messages

securely

with TitanFile!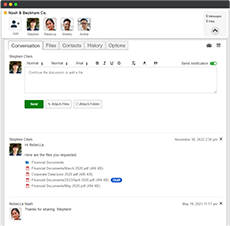 As easy to use as email for staff and clients
Lightning-fast upload speeds
Send files of any size. No storage limitations
Try TitanFile Free