What is Secure File Sharing?
Secure file sharing is the process of sharing files using a method that preserves the confidentiality of the data while it's in transit from one system to another. Only the intended individuals will have access to the data you share.
Why is Secure File Sharing Important?
Secure file sharing is critical for businesses because they have sensitive information they need to protect—whether it be confidential workplace documents or client information. Failure to protect this information can result in a data breach that can lead to severe reputational and monetary consequences.
Benefits of Secure File Sharing
Adopting a secure file sharing solution has many benefits for your organization:
Protect Client Confidentiality
One of the most crucial components of corporate ethics is client confidentiality. In summary, you need to do everything in your power to protect the information that your clients provide to you. With a secure file transfer solution, you're able to securely exchange confidential files between your business and your clients.
Workplace Confidentiality
Trade secrets, financial information, and company strategy are just a few of the sensitive business details that are exchanged among employees. If this information is leaked, it could give competitors insight into your business operations and impact company revenue. A secure file sharing solution would keep confidential workplace documents secure during every step of the file-sharing process.
Remote Work
Since the onset of the COVID-19 epidemic, several businesses have implemented a hybrid work paradigm that allows employees to work both on-site and remotely from home. In some cases, employees work entirely from home. Due to the lack of in-person communication, it can be difficult to manage remote employees and monitor how they're sharing sensitive information. By adopting a secure cloud-based file transfer solution organization-wide, you are able to standardize a secure way for employees to share confidential files.
Higher Productivity
Employees are more productive when they have access to technologies that enable them to be more efficient – a secure file sharing solution is one of them. When it comes to file sharing, staff can automate security with the use of secure file sharing technologies. Rather than password-protecting sensitive files, or not protecting them at all, they can use a secure file sharing solution to easily transfer files over the cloud.
File Sharing Methods to Avoid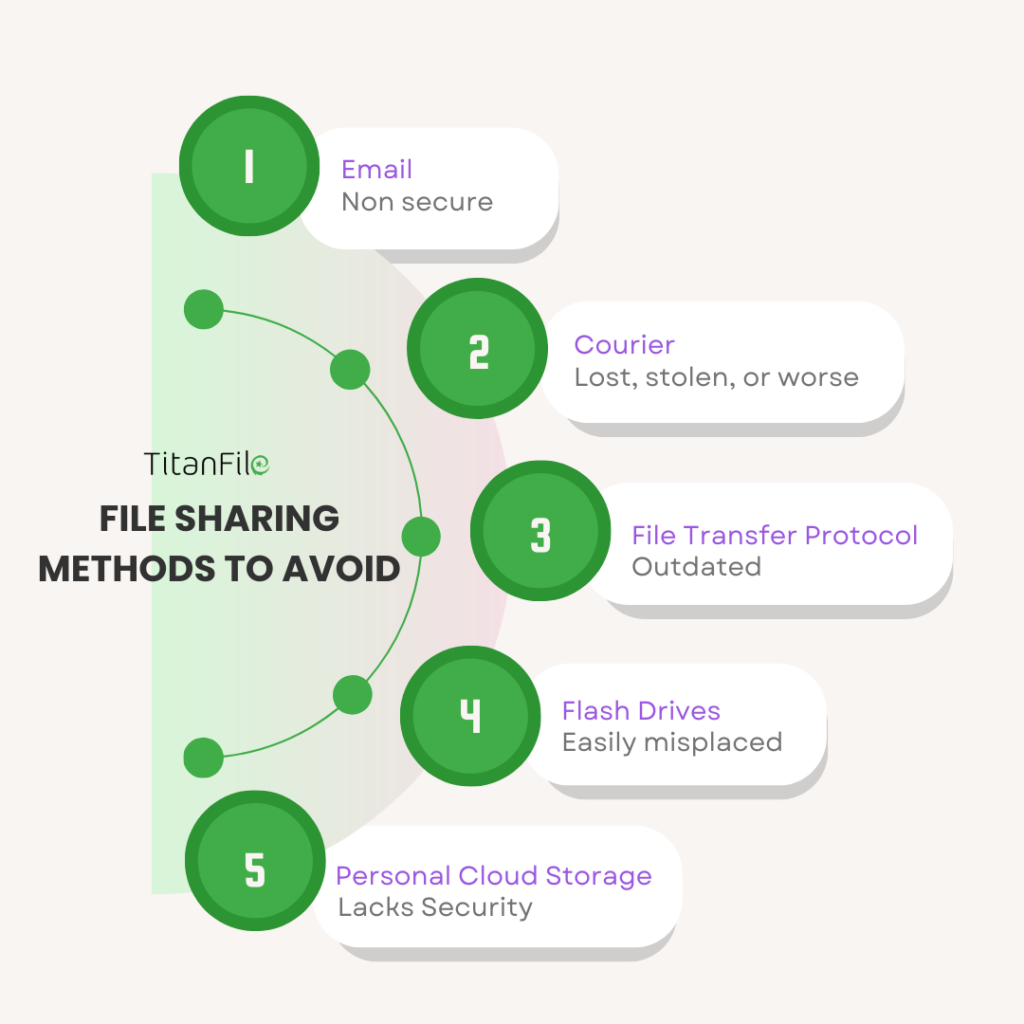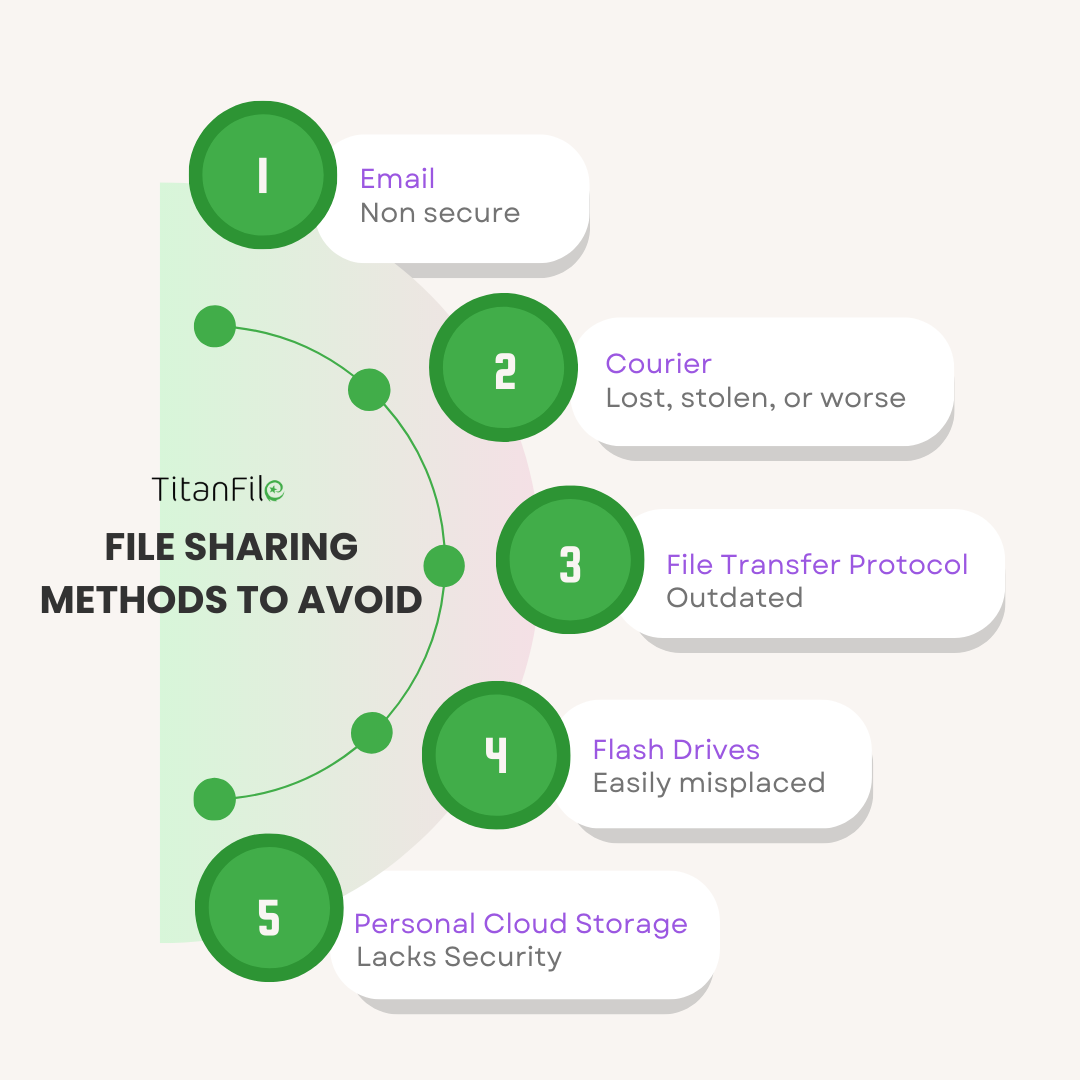 If you care about confidentiality, then there are a few file-sharing methods you should reconsider using:
Email
Email is great for general correspondence but when it comes to sharing sensitive information, email should be avoided at all costs. Outgoing emails are typically not encrypted, thus there is the chance that the data will be intercepted by hackers and misused without your permission.
Learn why email is not a good solution for secure file transfer.
Courier
It's not uncommon for packages to get lost in the mail or delivered to the wrong address by mistake. If the package carrying your information gets lost, your private documents could end up in the wrong hands.

File Transfer Protocol (FTP)
FTP does a good job of facilitating transfer from one system to another, however, it was not designed to be secure. Experienced hackers can easily brute force a user's credentials and intercept the information being transmitted.

Flash drives / external hard drives / DVDs
Physical storage devices such as flash drives, hard drives, and DVDs are physically small devices that are easy to misplace. Misplacing one of these units with confidential information on it can lead to unauthorized access to that information.

Personal cloud storage accounts
Personal storage accounts lack the security and compliance requirements that are necessary when sharing confidential information in highly-regulated industries. Since these are often non-corporate accounts, they are often not regulated by your workplace and do not have audit trails.
Industries That Need Secure File Sharing
Any organization that sends or receives confidential information is in need of a secure way to share files. Some of the most highly-regulated industries include:
Financial service providers and accountants understand the value of privacy. Financial information on a company reveals both its strengths and weaknesses. Such information must be discreetly analyzed and interpreted until it is prepared for dissemination to stakeholders. Secure file sharing is essential to the success of finance-related companies as they collaborate with other businesses.
Healthcare providers have access to a lot of confidential patient information referred to as Protected Health Information (PHI) or Personally Health Information. Under regulations, such as HIPAA and PIPEDA, this information needs to be kept secure at all times- whether it's in transit or at rest.
Important documents are continually shared between regulatory agencies and governments. Although timely collaboration is critical in this industry, it's equally important to maintain the confidentiality of the documents shared.
Legal professionals recognize the significance of maintaining client confidentiality. Protecting the confidentiality of client documents is necessary to uphold their best interests. Throughout the many practice areas of law firms and their use cases including litigation, discovery, production, and corporate transactions, an efficient, yet secure file-sharing solution is essential to the firms' success.
Common Use Cases For Secure File Sharing
A secure file-sharing solution can help address several use cases in your organization including:
Managing confidential and sensitive client information requires top-tier security. There are thousands of cyberattacks per day which can result in data breaches and stolen information. Security has now become a top priority for firms that manage client documentation.
With secure file sharing solutions, even the most complex information security management systems (ISMS) can be configured to your needs. Administrators can have complete control over data via granular access controls, audit trails, and user delegation features.
One of the most important and prominent use cases for secure file sharing is the ability to send and receive large files. It's very rare that members of a law firm will only need to send small files. During litigation and discovery, attorneys and their support staff often transfer gigabytes worth of information.
Secure file sharing solutions make it simple to share files of all sizes, types, and volumes over an encrypted network without the inconvenience of transferring files via FTP or mailing packages of paperwork and flash drives.
If you manage confidential client information, chances are, you need to abide by compliance standards to protect them. Depending on the jurisdiction and industry your business resides in, you are required to follow specific standards; for example, GDPR in Europe, PIPEDA in Canada, and HIPAA in the U.S. Failure to comply with these standards may result in fines up to $1,000,000 and most importantly, the loss of client trust.
It can be difficult to ensure that all requirements are met without the assistance of a third-party. Fortunately, when it comes to file sharing, there are many many secure file sharing companies today that have dedicated compliance teams to ensure that their platforms are compliant with industry standards and regulations.
Learn more about compliance:
Workplace confidentiality is a set of policies and procedures created to protect the integrity of sensitive or potentially damaging information handled in the workplace. Workplace confidentiality dictates information handling practices and maintains the privacy of confidential information. It is easily maintained through the use of secure file transfer solutions which meet compliance requirements and protect information from unauthorized users.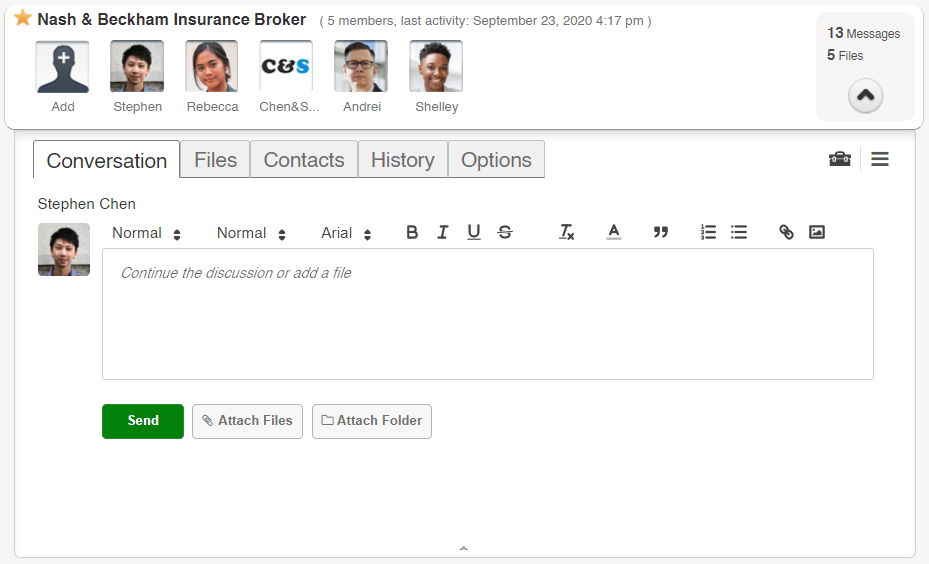 Secure client collaboration plays an important role in highly-regulated industries. The ability to effortlessly communicate with clients results in improved productivity, clarity, and overall satisfaction for all parties involved.
Secure file sharing platforms can act as a secure client portal that you can use to exchange confidential information with your clients in a single, centralized location. Staff and clients will have peace of mind knowing that their private information is kept secure at all times.
Ad-Hoc File Transfers
The term "ad hoc" means "person to person." In terms of file sharing, ad hoc file transfer represents scenarios where you need to quickly share files with someone without having to go through the hassle of setting up a user account for the recipient. You should be able to quickly add a file, add a recipient, and click send.
Whether you're sharing files among your colleagues, with clients, or with outside parties, a secure file-sharing solution will enable you to efficiently perform secure ad hoc file transfers.
How to Transfer Files Securely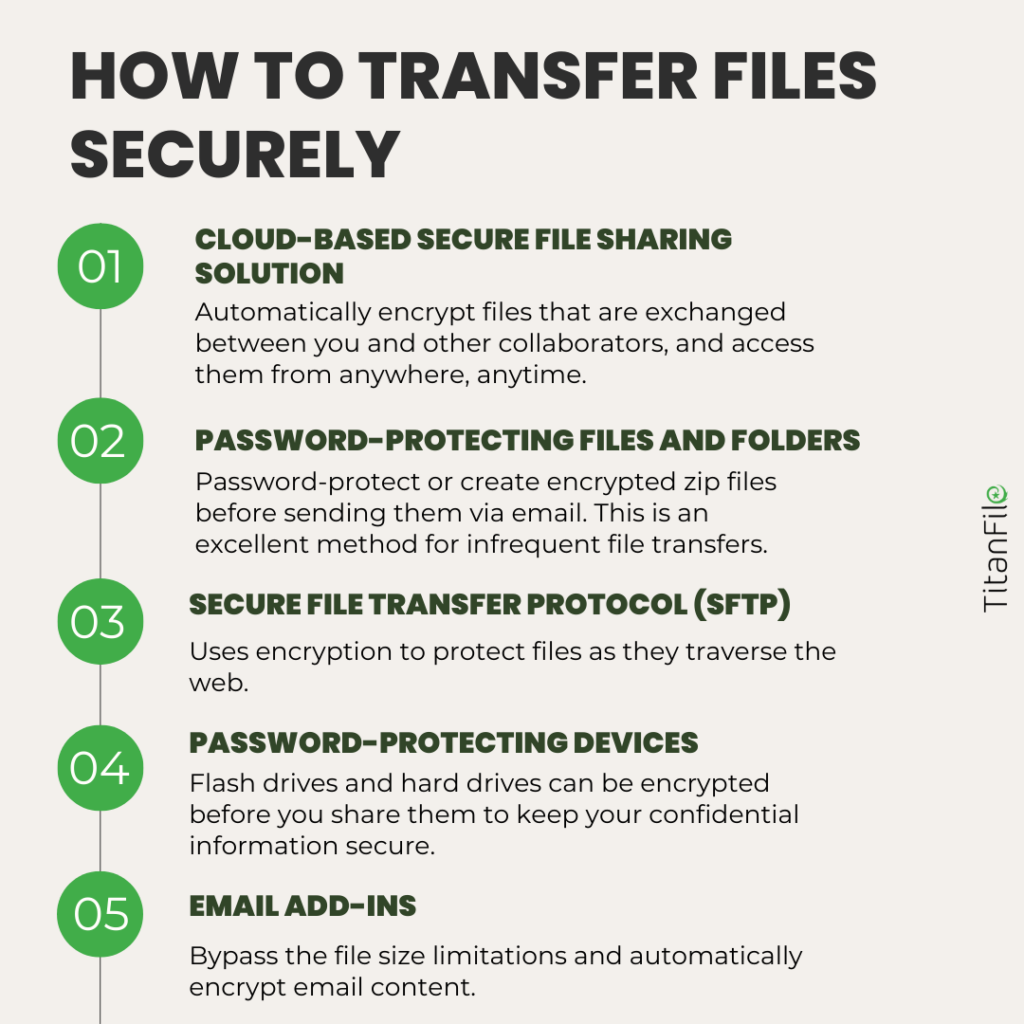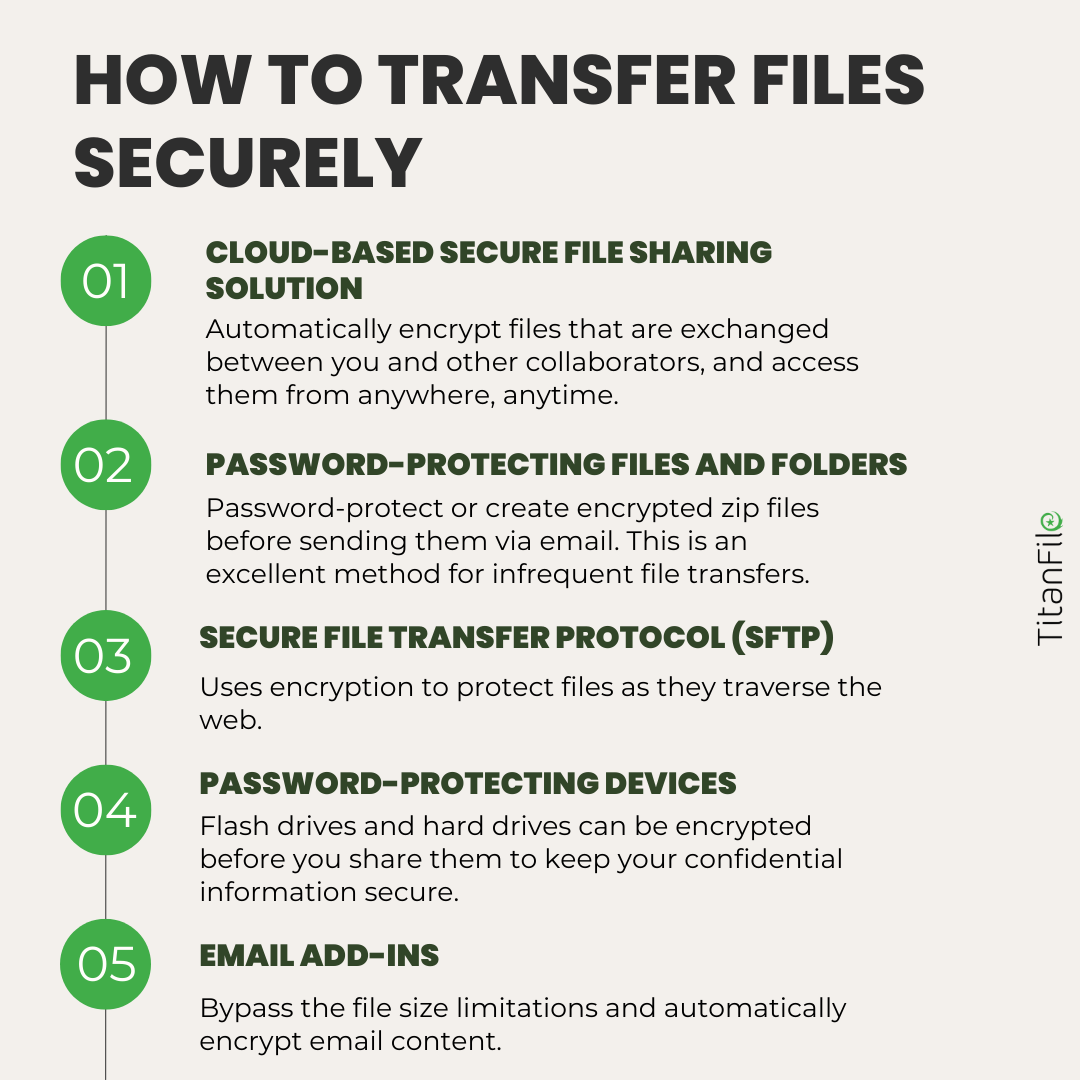 If you're looking to adopt a secure file sharing solution, there are several options you can choose from. Below, we've listed the most modern ways for secure file sharing today.
1. Cloud-based Secure File Sharing Solution
Cloud-based secure file-sharing solutions have become the standard for transferring files. A secure file-sharing solution, such as TitanFile, enables you to automatically encrypt files that are exchanged between you and other collaborators. These platforms are cloud-based, which means they are accessible from anywhere, giving your employees the flexibility they need to exchange confidential files from the office or remotely.
2. Password-Protecting Files and Folders
For files smaller than 20MB, you can password-protect them or create encrypted zip files before sending them via email. This is an excellent method for infrequent file transfers.
If you're working with larger files or a high volume of information, this method is insufficient.
3. Secure File Transfer Protocol (SFTP)
Secure File Transfer Protocol (SFTP) offers the same functionality as traditional File Transfer Protocol (FTP) except it introduces a security component. SFTP uses encryption to protect files as they traverse the web. SFTP uses SSH and encrypted File Transfer Protocol (FTP) commands to prevent password theft and protect sensitive information.
It's good to note that the process behind SFTP can be quite time-consuming and inefficient. Not only do transfers take longer to set up, but often IT intervention is required since the average employee does not know how to use SFTP.
4. Password-Protected Devices
Flash drives and hard drives can be encrypted before you share them to keep your confidential information secure. When these devices are encrypted, even if they were lost in transit or delivered to the wrong address, unauthorized parties would not be able to access the contents without the password or encryption keys. However, it can get quite expensive to purchase these types of hardware and ship them out on a regular basis.
5. Outlook Integration
It's common practice to send documents via email but is it safe? 94% of malware is delivered by email which makes the confidential information you share susceptible to breaches. Additionally, email is not automatically encrypted – if an unauthorized agent accesses your account, the information is easily readable.
In order to share sensitive documents securely through Outlook, you can use an add-on such as TitanFile's Secure Send Outlook Integration. With this tool, users can bypass the file size limitations that email imposes on documents bigger than 20 MB. As well, all email content is automatically encrypted in transit, end-to-end, and at rest to protect your information through every step of the file-sharing journey. The best part? You won't have to leave Outlook to send files securely.
How to Choose a Secure File Sharing Solution
If you've come to the conclusion that you need to adopt a new secure file transfer solution, the first step you should take is to create a list of the requirements the solution must adhere to.
Not sure where to start? Here are some must-have features and capabilities to add to your secure file sharing checklist:
Secure File Sharing Checklist
Employee and Client Satisfaction
Support for Company Uses Cases
Reliability
Accessibility
Start a Pilot Program
Once you've narrowed down some candidates, you want to ensure that they meet your expectations. Many secure file sharing providers allow you to trial their software or undergo a Proof of Concept (POC) process to see if the platform is the right fit for you and your colleagues. Take advantage of these trials and give access to employees that would typically need to share confidential files on a regular basis.
If employees respond well to the solution during the pilot, you may have a winner!
Why TitanFile?
TitanFile is an award-winning secure file-sharing platform that is consistently rated as the most secure file-sharing solution among several third-party rating sites such as the SecurityScorecard.
TitanFile is intuitive for even the most non-technical employees or clients, enabling them to have self-serve access to sending and receiving confidential files without any hand-holding from an IT team.
Furthermore, TitanFile is compliant with industry standards such as ISO 27001, SOC 2 Type II, HIPAA, PIPEDA, GDPR, and PCI DSS, giving your employees and external collaborators peace of mind.
More About Secure File Sharing From Our Blog