If you're an enterprise organization with offices around the world or a small business with a handful of employees, you need a way to store and manage your documents online. The right system ensures that you're keeping client information protected while also making it easy for employees to collaborate with one another for the successful resolution of problems. While basic paper file systems and other consumer-grade solutions may have been effective in the past, simply storing your files in a metal cabinet in the corner of the room won't cut it in the digital world.
Thinking about making the change to something better suited to your organization's evolving needs? Here are five benefits to switching to an online document management system:
1. Enhance productivity
Productivity can be compromised when sharing files via email or as paper copies. Editing gets complicated if more than one person wants to be involved. If editing is happening on paper someone is responsible for making changes on the electronic version – not an efficient system. Online document management allows participants to upload their files and have multiple parties examining the information at once. If there's a collaborative function, stakeholders can also leave their feedback directly in the platform., sharing the ongoing feedback with all involved.
2. Handle permissions
Being responsible for privileged information is an important role. It means that someone trusts you with their personal details, and is expecting you to treat them with care. It also means you'll want to have a system for permissions in place. It's imperative that all files are shared securely, and that you have the ability to monitor who is accessing files, and when. If your current solution doesn't provide you with those features it may be time to make the switch to an online document management system that does.
3. Flexible access
Business is more flexible than 9-5, and workplaces aren't restricted to traditional office settings. That's why you need to know that you can access your documents whenever and wherever you need them. Traditional file storage solutions can be limiting – you may not be able to access your workplace shared drive outside of the office, and paper and email copies aren't always secure solutions. Online document management systems give you the flexibility to log on from multiple devices, giving you the ability to get your work done from just about anywhere.
4. Protect your files
Are you relying solely on either paper copies of documents, or versions that are stored to a shared drive kept in your own office? If so, you could be setting yourself up for document danger. Power outages impacting your shared drive can restrict your access to files, potentially causing you to miss important client deadlines. The same goes for any disaster than can negatively impact your workspace, including fire and flood. Trust the protection of your documents to the experts, those that have servers in secure locations online designed to handle catastrophe.
5. Easy collaboration
Collaboration often results in some of the best ideas – so why do we choose technologies that force us to work in a silo? In many cases, working with paper copies, or relying on email to send files back and forth doesn't promote collaboration. Email can be isolating and result in duplication of efforts due to everyone independently making their own changes and then sharing them with the group. Great ideas can get lost in the tangle of an email chain, never to be put into action. The right online document management system for your organization understands that collaboration is a focal point of what you do. Providing a space for real-time communication, sharing and feedback gives you the ability to share your thoughts and ensure they're heard.
What is TitanFile?
TitanFile is an easy-to-use file sharing solution that allows you to securely exchange confidential documents and files with your clients and colleagues with peace of mind.
Share files and messages

securely

with TitanFile!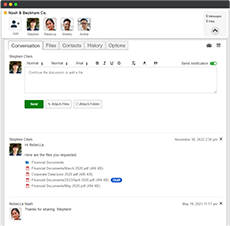 As easy to use as email for staff and clients
Lightning-fast upload speeds
Send files of any size. No storage limitations
Try TitanFile Free