It's no secret that Marissa Mayer has been the focus of criticism lately. Since calling all Yahoo employees back to the office many have openly debated whether this was the right course of action for the struggling company. Outside of corporate press releases and ongoing rumors and gossip, there hasn't been much discussion on the reasons why the company believed this was the best stance to take, as it clearly bucks the trends of other tech companies. Last week, Mayer took the stage at the Great Place to Work conference, and taking the opportunity to discuss the changes. Mayer recognized that while telecommuting is working well for many organizations, it's just simply not the direction that Yahoo needs to take right now.
Just like working from home isn't currently the best option for Yahoo, successful telecommuting requires a specific skillset. There are times in your life and other factors that might be more conducive to working from home. Considering telecommuting? Here are five characteristics that can help you find success.
Focus
Working from home takes you away from the workplace and plunks you down in your home office or at your kitchen table. Can you complete tasks despite afternoon television and that pile of laundry?
Collaborative attitude
Working from home can be an isolating experience for some; however, collaboration is easy to maintain and manage if you're using the right tools. Embrace the collaborative tools in use by your co-workers, and be sure to connect frequently to stay up to date on projects and important news.
Adaptabilty

While you may have established a routine that works well for your day-to-day work, it's vital that those working from home are flexible. Much the same as in an office, there are going to be unexpected meetings and projects that materialize out of thin air. You have to be able to put that rockstar focus to use and switch gears when necessary.
Trust
Trust is key in a work-from-home scenario. You need to be able to trust that co-workers are respecting their commitments to you, while at the same time honouring the same expectations in return. Developing relationships with your co-workers will help foster the trust required for success.
Self-starter
Chances are there's not going to be a boss hovering over your shoulder. If you're going to stay ahead of the game it's important you have the ability to recognize what needs to get done, and where to start to achieve your goal.
Did we miss any traits that are important for working from home? Let us know in the comments below.
Share files and messages

securely

with TitanFile!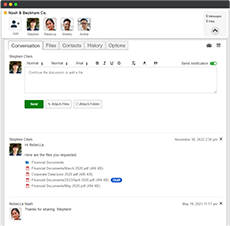 As easy to use as email for staff and clients
Lightning-fast upload speeds
Send files of any size. No storage limitations
Try TitanFile Free