If you're the owner of a small-medium business (SMB), you understand the risks that online attacks could have on your organization. Hopefully you've taken all the necessary steps to protect against cyber threats, making your list and checking it twice, while implementing systems and practices that safeguard customer information from hackers. 

Managing the cybersecurity presence of your business may be a cost effective solution, but it's not always the best way to keep your business safe. Just think: you wouldn't expect your plumber to be able to perform the same tasks as your accountant, so why do you put yourself in a position that requires you to do jobs that you haven't had training in? Sometimes you need to seek the help of a cybersecurity expert – and that's okay. It's their job to provide advice and keep everything safe, protecting the best interests of your organization and customers.
So how do you know if you need help?
Here are 5 signs that you might need to hire an expert:
1: You've never had any formalized computer training.
2: When you hear about 'the cloud' you think more about a cumulus than a computer.
3: Your first thought when reading about a Trojan Horse takes you back to your undergraduate Greeks and Romans class.
4: You were surprised to learn that firewalls do not require the intervention of your local first responders.
5: Your idea of a secure password is the word 'password'.
Consulting with outside help is a great way to get an expert opinion on potential security vulnerabilities. You'll also be able to get sound advice on which steps to take towards protecting your security, and the privacy of your customers.
Learn more about how to protect your SMB from online threats in our latest ebook.
Do you seek an expert opinion for cybersecurity questions? Let us know in the comments below
Share files and messages

securely

with TitanFile!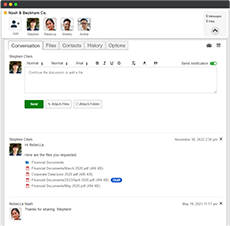 As easy to use as email for staff and clients
Lightning-fast upload speeds
Send files of any size. No storage limitations
Try TitanFile Free