If someone were to ask you about security breaches, chances are your first thought would be of large organizations being attacked by hackers. Perhaps Sony and Wyndham Hotels come to mind – businesses that are huge and hold untold amounts of confidential data. While stories of multinational breaches often get the most press, in many cases it's the small-medium businesses (SMBs) that are in the most risk. In fact, according to Visa "about 95% of the credit-card data breaches it discovers are on its smallest business customers."
SMBs are attractive targets for cyber criminals as they are often unaware of the vulnerabilities they posses and the steps needed to protect themselves. Combined with a lack of resources to invest in security services, SMBs are ideal for exploitation.
But just because you're small doesn't mean you can't arm both yourself and your employees with the tools needed for protection. Our ebook "5 Simple Ways Small and Medium Businesses can Improve Online Security" will give you the tips you need to get your organization on the track to security success.
The ebook focuses on the 5 steps you can take to improve security at your SMB. These include:
– Understanding the risks: Knowing the threats that impact your industry can help you get ahead of the game in protecting yourself.
– Performing due diligence: Take the time to ensure that your virus scans and other security protections are not only in place, but also up to date.
– Creating a security policy: Creating a security policy helps you lay out your expectations for employees, including proper use of email, work devices and creating secure passwords. Providing clear regulations helps everyone play by the rules.
– Training your employees: Work with your employees to ensure they have the skills and knowledge they need to work confidently and securely.
– Hiring expert help: Oftentimes, SMB owners are left responsible for managing the online security of their business – even when they've had no formal training. Whether it's a contractor or a cloud computing provider, get the help you need and protect your assets by hiring an expert.
At the end of the ebook we've included a bonus checklist that will help get you on track to meeting your security goals.
It's time to dive in and start protecting your business. Download our free ebook today to learn more about the 5 simple steps you could be taking to protect the online security of your SMB.
Share files and messages

securely

with TitanFile!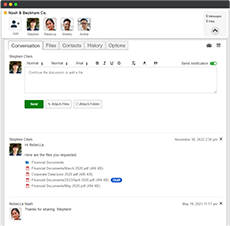 As easy to use as email for staff and clients
Lightning-fast upload speeds
Send files of any size. No storage limitations
Try TitanFile Free