Has your office been thinking about secure file sharing lately? Whether it's because of the constant stream of news stories on data breaches, or an internal situation that has made you reconsider how you store and share secure documents online, you know that now is the time to get serious about your options. Email doesn't accomodate the file sizes you need to share, and other popular online document sharing sites just aren't secure. Now that you know what you need, here are some points to consider when you're selecting a provider:  
What level of encryption is provided? 
There are various levels of encryption to consider when you're choosing a secure file sharing provider. 128-bit encryption is commonly used in commercial and consumer applications. While 128-bit is common, there are other more secure options. Ideally, your file sharing provider will use 256-bit encryption, the strongest available on the market.
Are there in-tool collaboration features?
If you're working on a project with colleagues and sharing files back and forth – doesn't it make sense to be able to converse with them on the same platform? Not only is there a convenience factor in not having to switch between platforms, but it's a more secure option as well. In-tool collaboration keeps you communicating within a secure environment instead of forcing you to take conversations to often unsecured areas, including email.
Are auditing mechanisms in place? 
If you're sharing secure information, you'll need to know who has been accessing your documents, and when. Tracking systems, including audit logs, will help you keep a tighter control on document views.
Can I access my documents on a mobile device?
Working from home is becoming more common. Business is being conducted at airports and coffee shops. If you're always moving, shouldn't your files have the same flexibility? Your organization needs to have the ability to work from not only your preferred location, but also your preferred device. Does your secure file sharing provider have mobile apps? Are documents available on tablets? These should all be things you consider.
Are all shared files initially public?
By nature, file sharing sites generally encourage a social atmosphere. While this can be useful if you're sharing family photos, it's not the case when you're uploading documents that are important to your organization. Ask any potential providers about the default setting for their file uploads. All files uploaded should be private by default. This will protect you from accidentally sharing sensitive information.

Find the secure solution that works best for your business. Click the banner below for a free 30 day trial, and to learn more about how TitanFile can help your organization.
What other questions would you have for a potential provider? Are there features you wish were more readily available? Let us know in the comments below.
Share files and messages

securely

with TitanFile!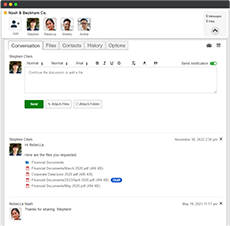 As easy to use as email for staff and clients
Lightning-fast upload speeds
Send files of any size. No storage limitations
Try TitanFile Free