Why all law firms need a secure email platform
Your law firm has the responsibility of making reasonable efforts in ensuring that the confidentiality of client information is preserved. If regulations and other security best practices are not followed, your firm could experience a security breach and take a hit on the reputation you worked so hard to build. This often leads to damage control costs that could have been avoided.
When it comes to protecting confidential information, multiple things need to be considered—how information is shared, where it is stored, whether or not it's being tracked. Today, the most common method attorneys use for exchanging information with clients, opposing counsel, and other external parties is email.
While convenient, regular email poses several security risks. On their own, emails do not provide much protection for the message body and attachments included. Emails travel through several servers before finally reaching its destination. In the image below, you can visualize how emails travel from the sender's email client to the recipients'.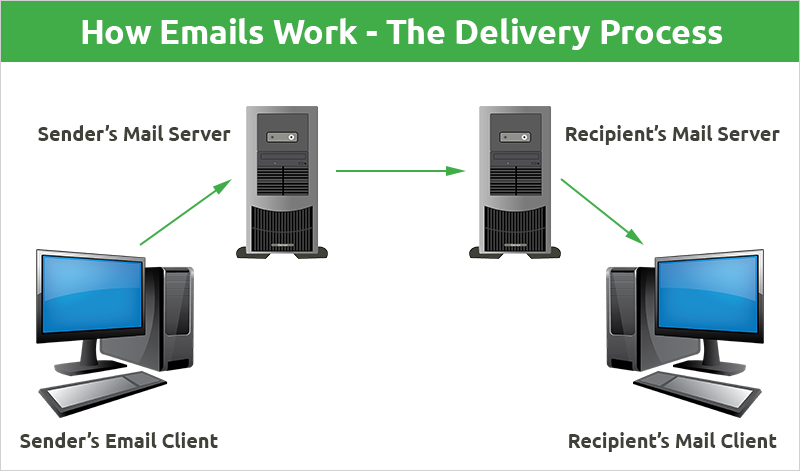 As emails are traveling to their intended recipients, they can be intercepted by a hacker at any point, exposing the information being shared. This could lead to a breach of confidential information.
As a solution, many law firms today are adopting a secure email platform to replace traditional email platforms and to protect all information that is leaving and entering the firm.
The Solution – Secure Email for Attorneys
Secure email platforms are becoming more and more popular as cybersecurity threats continue to rise. Using a secure email platform, confidential information is protected through encryption, making it extremely difficult for hackers to access information even if they somehow got a hold of it. Attorneys and support staff will have peace of mind knowing that all information leaving and entering the firm is protected at all times.
While confidential information may certainly be shared through other means such as secure FTP, these methods are often more technical, This makes it difficult for attorneys and support staff to share information on their own when they need to. On the other hand, secure email platforms allow attorneys and support staff to share files on their own without requiring any IT intervention.
Which secure email platform should you use?
We invite you to try TitanFile. TitanFile is an award-winning secure email platform that is trusted by many national law firms today. Here are the benefits of adopting TitanFile as your secure email platform:
1. Ease-of-use
TitanFile was built with security and ease-of-use in mind. As a result, TitanFile is as easy to use as email and results in higher user adoption rates compared to other secure email platforms.
Even if your attorneys and support staff are using TitanFile for the very first time, they'll be able to start sharing files and secure messages within minutes. First-time recipients will be able to easily access files and messages without requiring any assistance. Your staff will spend less time on support calls, and more time being productive.
2. State-of-the-art security
TitanFile is built with state-of-the-art security features such as 256-bit encryption, multi-factor authentication, and granular access controls to keep your information secure. The below image demonstrates how TitanFile's encryption works.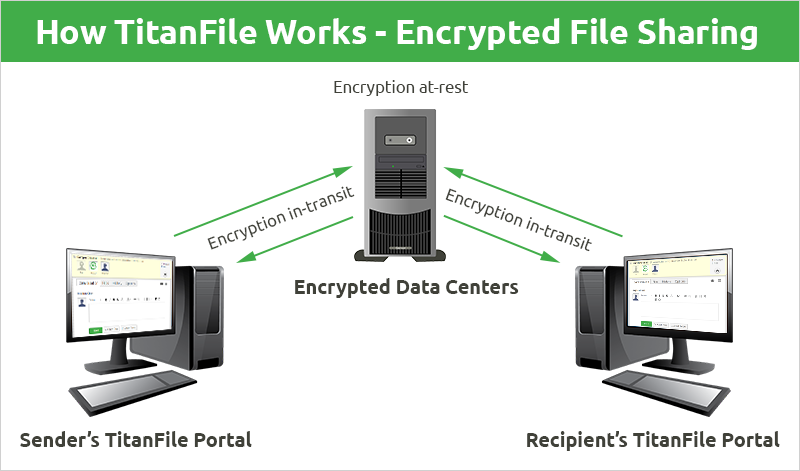 Unlike regular email which does protect information, TitanFile encrypts information while it's being transferred and stored. Data is stored on ISO-certified data centers.
TitanFile also complies with many industry regulations such as:
SOC 2
HIPAA / PHIPA
PIPEDA
GDPR
PCI DSS
3. Large file sharing
The most popular email service providers such as Outlook or Gmail only allow a maximum file size of around 25Mb which means they will restrict you from uploading if you try to upload files bigger than that limit. Even if you figure out a way to increase the attachment size limit to send large files, there's no guarantee that your recipients will receive it because email servers on the receiving end might reject the oversized attachment. The recipients' mailboxes might even be too full to store the file.
TitanFile enables you to send files of virtually any size (depending on your subscription plan) at blazing fast upload speeds. All uploaded files are stored in TitanFile's secure cloud servers which don't eat up any inbox space.
4. Organized message and file sharing
You're busy and you probably receive hundreds of emails every week. With all these emails creeping into your inbox and the numbers accumulating over time, how do you even begin to search for files that were previously sent weeks, months, or even years ago? When you try, it ends up being a frustrating experience because you consume a lot more time than you have to, searching through several email threads.
TitanFile uses "Channels" which are two-way communication streams that allow you to sort your files and messages by client, case or subject matter. This helps you stay organized and removes the need for you to dig through your email inbox to locate information.
5. Audit logs
As a legal professional, you're constantly sending important legal documents but there's no guaranteed way of knowing if your contacts have received or accessed the files unless they tell you. This can lead to a number of issues: How do you know when to follow up? How do you know if the files were delivered successfully? What do you do when opposing counsel claims they haven't received anything? With audit logs, you have proof of access and proof of delivery.
TitanFile provides you with access to audit trails that show information regarding the messages and files you share through the platform. You can use this to check if emails and files were delivered successfully and also receive email notifications when the files you send are accessed by the receivers.
Interested in giving TitanFile a try? Get a free trial.