Secure file sharing has emerged as a crucial component of company operations in the current digital era. Businesses need secure file sharing technologies to protect their sensitive data and make sure that it is only available to authorized staff due to the rise in remote work and the requirement for collaboration.
Choosing the best file sharing solution for your business can be difficult considering that there are so many options available. In this post, we'll talk about the top tools for safe file sharing in the workplace for 2023, and why TitanFile tops the list.
What is Secure File Sharing for Business?
Secure file sharing for business refers to the process of sharing files among employees or with external parties in a safe and protected manner that ensures data confidentiality, integrity, and availability. This involves using specialized software or tools that employ encryption, access controls, and other security measures to protect files from unauthorized access, tampering, or theft.
Secure file sharing for business is especially important for highly regulated industries such as finance, healthcare, and government, where sensitive data must be kept confidential and secure at all times. By using secure file sharing solutions, businesses can ensure that their confidential data remains protected while allowing employees and external parties to collaborate and share files in a safe and efficient manner.
Secure File Sharing for Business in 2023
If you're looking for the best tools for secure file sharing in 2023, you've come to the right place. Here is a list of some of the top options out there today:
1. TitanFile
TitanFile is an enterprise-grade, award-winning file-sharing solution that is trusted by highly regulated industries such as IT, accounting, law, and government bodies. What sets TitanFile apart from other file-sharing solutions is its cutting-edge security, lightning-fast performance, and ease of use for everybody.
Unlike Dropbox and other similar solutions, TitanFile boasts top-tier security that includes AES 256-bit encryption in transit, at rest, and end-to-end. With options such as customer-managed encryption keys (CMEK), data is solely in the user's possession, ensuring compliance with security requirements.
TitanFile is also SOC 2 Type II, ISO 27001, HIPAA, PIPEDA, GDPR, PHIPA, WCAG 2.1 compliant, making it an ideal solution for businesses that require adherence to compliance regulations.
For enterprises that need to share large files, TitanFile offers seamless and secure file-sharing capabilities. Unlike email, which is inefficient for sending large files and poses security risks due to the lack of encryption, TitanFile makes it easy and fast to share large files securely. With the Outlook plug-in, users can send and receive large files directly from their inboxes. Additionally, TitanFile offers unlimited storage and large file uploads of any size, format, or volume.
Above all, TitanFile was designed with the end-user in mind, ensuring that the platform is intuitive and easy to use for all skill levels. Regardless of technical ability, users can easily and seamlessly share files online, saving time and reducing the need for customer service support.
2. Dropbox Business
If you're actively looking for a new secure file sharing platform, you've likely come across Dropbox Business on Google.
Dropbox for Business is a well-known file sharing and collaboration that provides advanced file sharing features for solo professionals and offers tighter admin controls, sharing settings, and team features for businesses.
One of its key features is the availability of hundreds of app integrations online, allowing users to easily switch from file sharing to attending Zoom calls in one centralized location.
Despite being a great enterprise solution, there are some drawbacks to consider. If you prioritize top-tier security over in-app integration, then you might want to explore other options.
While Dropbox for Business employs 256-bit AES encryption similar to other solutions such as TitanFile, the platform retains the encryption key that gives them access to your data. Additionally, it lacks built-in anti-virus scanning that can detect and prevent viruses from attacking your account information.
3. Google Drive for Business
Google Drive for Business is a powerful business cloud solution that offers upgraded file-sharing and cloud storage capabilities. It boasts an impressive 60+ integrations on the platform, designed to work seamlessly with other Google products and even integrate with Microsoft Office 365. Additional collaboration features enable users to track real-time collaboration by viewing who is commenting, editing, and sharing documents
However, the solution is not very intuitive when it comes to content migration. Businesses considering using Google Drive for Business will need to consider the time investment transferring data will take, which can negatively affect employee workflow and habits, and risk slow adoption of the platform. To ensure seamless file-sharing, including transitioning, it may be worth considering alternatives on this list.
4. Box
Box is a cloud-based content management and collaboration platform that provides secure file sharing and storage solutions for businesses of all sizes. It offers features such as secure file sharing, version control, document workflows, and task management, making it a popular choice for businesses looking to streamline their document management processes.
Box's security features include AES 256-bit encryption, two-factor authentication, and granular access controls, ensuring that all files are protected from unauthorized access. Additionally, Box complies with industry regulations and standards such as GDPR, HIPAA, and SOC 2, making it a trusted choice for businesses that deal with sensitive information.
Another advantage of Box is its easy integration with other business tools such as Microsoft Office, Salesforce, and Google Workspace. This allows users to access and collaborate on files seamlessly, without having to switch between different applications.
5. FileCloud
FileCloud is a comprehensive enterprise solution for file sharing, synchronization, and backup. It is commonly used by universities, law firms, and accounting professionals, among others. With FileCloud, enterprises can enjoy advanced data governance, granular controls, and remote access. Just like Dropbox, users have the option to host this software on public and private providers, while also synchronizing on-premise and cloud-based storage for their data. Additionally, FileCloud syncs files across all device types, including desktops, tablets, and mobile devices, making it an excellent option for professionals on the go.
However, while FileCloud's capabilities are impressive, it may not be the best solution for businesses that need to communicate frequently with external clients. Compared to other solutions, FileCloud provides limited access to tools for external clients. In contrast, client portals such as TitanFile offer free client accounts with two-factor authentication and data retention, making client collaboration easy and secure. Unfortunately, FileCloud does not offer these features for external clients.
Conclusion
With a plethora of enterprise file sharing solutions available, selecting the right one for your business needs can be daunting.
Businesses rely on file sharing solutions for client collaboration, security compliance, and transferring large files without hassle. The aforementioned options are some of the best cloud-based file sharing solutions available for businesses that prioritize these needs. The next step is up to you!
To experience seamless and secure file sharing, we suggest taking advantage of TitanFile's 15-day free trial.
Share files and messages

securely

with TitanFile!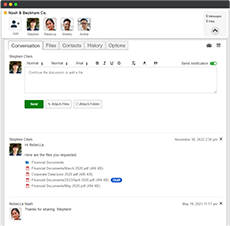 As easy to use as email for staff and clients
Lightning-fast upload speeds
Send files of any size. No storage limitations
Try TitanFile Free