When adopting new software, should security or usability be the deciding factor?
Many enterprises have faced this internal struggle.
IT departments value secure software, as they prioritize safeguarding data, whereas everyday business users desire an intuitive platform that saves time.
To deliver secure file sharing software to both parties, we place equal value on safety and ease-of-use.
But not all services share this philosophy.
Patrick Heim, Dropbox's first head of trust and security, has made it a priority to address cloud security skeptics. However, he says usability is his primary objective.
"If you were to re-balance, security or usability, I would say usability and adoption is the most important thing," he says.
Click here to read The Wall Street Journal interview.
TitanFile's Approach to a Secure User Experience
We built TitanFile as a secure file sharing service for business professionals that is equally loved by IT.
To achieve this goal, TitanFile has an intuitive interface built for the average business user. It's as easy to use as email and can be operated on any device.
Many users say TitanFile improves productivity because it:
Organizes files and conversations in a seamless and automatic fashion
Allows for fluid two-way communication without installing or purchasing an additional program
TitanFile does not sacrifice security, boasting a number of intricate measures to ensure confidential data remain private, including:
A 256-bit encryption key, which provides double the protection of industry-standard 128-bit keys, at transit and rest
Zero-knowledge file transfer capabilities, ensuring only you and your correspondents can access the contents of your communications
The ability to choose where data resides, with servers in the U.S., Europe, and Canada
With these features, we strive to deliver high levels of both security and usability. There is no compromise.
>> With secure servers in Canada, the U.S., and Europe, TitanFile is a secure file sharing service that helps organizations protect private files, as well as comply with regulatory and jurisdictional requirements. Contact us today to learn more.
Like this post? You'll also enjoy:
Share files and messages

securely

with TitanFile!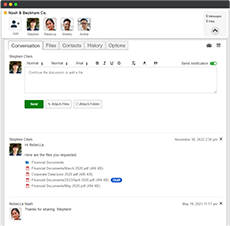 As easy to use as email for staff and clients
Lightning-fast upload speeds
Send files of any size. No storage limitations
Try TitanFile Free