TitanFile was welcomed into the Accelerator Center (AC) in December of 2011 and we are grateful for having had the opportunity.
Starting out on the East coast – in Halifax, Nova Scotia, we chose Waterloo because we wanted to be closer to the core of the Canadian innovation community. Here, we would look for the talent and mentorship instrumental to our success, and the Accelerator Program seemed to have it all.
Our first point of contact was a gentleman named Josh Wright; co-founder of a great up-and-coming company named Blitzen. Suffice it to say, we were more than a little excited to have gotten in. "When we joined we did not have many customers or revenue and now we have both" says CEO Tony Abou Assaleh, "the AC really made an impact on that."
The Accelerator program gave us support through mentorship, networking opportunities, connections to capital; services including access to office facilities, education, and commercialization expertise.
Our space at Communitech became a second home – an experience most startups can attest to. Working deep into the night, on weekends, only to come back to the grind again on Monday.
As you can imagine, leaving here garners mixed feelings. There is something about this place though, an electric energy – something that motivates you to keep going. You feed off the successes of your peers while knowing you have all the tools and support to achieve the same thing.
We'd like to thank our capable entrepreneurs in residence David Littweiler and Jaafer Haidar along with our public relations mentor Ellyn Winters-Robinson, finance adviser Kevin Elop, HR mentor Jackie Lauer,and Kevin Hood – our sales and marketing expert for giving us continuous guidance through our time with the AC.
We would also like to thank Frank Erschen, Communitech's Pitch Coach, for working with us and helping us connect with angel groups in the region.
And special thanks to:
Tim Ellis – CEO – Accelerator Center
Gary Pooley – CFO – Accelerator Centre
Andrew Jackson – Vice President of Client Services – Accelerator Center
For making the program an ongoing success.
We could not have achieved what we have without the wonderful people of Communitech and the Accelerator Center, many of whom have gone unmentioned in this particular blog post. Thank you to all, from the bottom of our hearts.
Our graduation is this Thursday June 12, at 9:30 AM at the Accelerator Center. If you can make it, we'd love for you to join us!
TitanFile, out.
Share files and messages

securely

with TitanFile!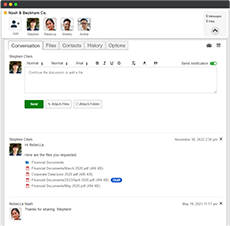 As easy to use as email for staff and clients
Lightning-fast upload speeds
Send files of any size. No storage limitations
Try TitanFile Free