About ILTACON 2023
ILTACON is an annual 4.5-day conference with comprehensive peer-driven programs, educational content, and face-to-face networking. It brings together industry experts from the legal, technology and cybersecurity fields to collaborate to discover and evolve successful legal operation strategies for today's transforming legal industry.
This year, TitanFile attended ILTACON at the Walt Disney World in Orlando, Florida. This article will be spotlighting the key takeaways of this year's event.
ILTA Exhibit Hall
Each year, the International Legal Technology Association (ILTA) hosts the premier educational and networking event for the legal sector, ILTACON. This year's conference boasted over 1300 attendees, 150+ vendors, and 80 educational sessions for professionals in the legal industry to explore the newest technological advancements and best practices.
Our team held a booth in the Walt Disney World Dolphin Convention Center's Atlantic Hall throughout the 4.5-day conference to share insights on how law firms can improve efficiency and security while transferring files. At the TitanFile booth, our team was able to reunite with existing clients, bond with neighbouring business partners, and connect with ILTACON attendees.
Earlier this year, TitanFile won the 'ILTA Solution Provider of the Year' Award and was able to share our success story with attendees at the conference.

Pictured Above: CRO, Victor Abou-Assaleh, CEO, Tony Abou-Assaleh, and VP Strategic Initiatives, Hussam Ayyad – pose for a photo in the TitanFile booth at ILTACON 2023.
Our Top Takeaways from ILTACON 2023
During this event, we had the opportunity to listen in on educational sessions and converse with hundreds of attendees. Here are our top  takeaways from ILTACON 2023:
1) Law firms are abandoning on-premise deployments and moving towards the cloud
Many law firms have tried to resist technological advancements in the cloud, but it's inevitable. Not only does on-premise limit scalability and accessibility but it makes data more susceptible to security threats, like the most recent ShareFile data breach. Cloud technologies offer several benefits that allow for lower maintenance costs, more convenient access to data, and the adoption of tools and capabilities that would otherwise not be available with existing on-premise deployments.
Booth attendees highlighted pain points with their current solutions as they pertain to on-premise file sharing, which drives the question: Why not switch?
2) End-users value efficiency just as much as security
Your time can be better spent negotiating contracts, consulting, conducting case preparation etc. So why are you wasting your time contacting IT?  In addition to clients demanding more efficient ways to collaborate with their law firms, we've learned that attorneys and support staff are also demanding access to toolkits that make their lives simpler. This is due to the frustration caused by not being able to perform simple tasks such as file sharing without support from their IT team.
File sharing should be simple. That's why it's important to have solutions that are end-user friendly and require low intervention from IT, like TitanFile.
Share files and messages

securely

with TitanFile!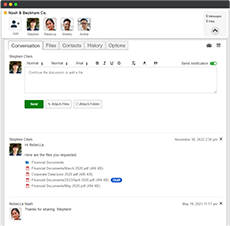 As easy to use as email for staff and clients
Lightning-fast upload speeds
Send files of any size. No storage limitations
Try TitanFile Free