— Hitachi Solutions America and TitanFile to collaborate on developing an enhanced secure communication and file sharing solution for the Enterprise market —
San Francisco, California and Waterloo, Ontario, Dec 4, 2013 – Hitachi Solutions America, Ltd., a leading supplier of solutions-oriented IT services, and TitanFile Inc., a cross-enterprise group communication and file sharing solution, announced today a strategic partnership to develop and bring to market an enhanced joint product addressing the security and agility needs of mobile professionals.
"We are very excited to partner with TitanFile as a way to continue to provide our customers with direct access to the latest technologies and products." said Yuji Nakagawa, VP of Security Solution Department of Hitachi Solutions America. "Their technology maps perfectly to our portfolio of secure mobile collaboration solutions that power today's distributed workforces. Additionally we are looking forward to accessing TitanFile's customer base which will help us extend our reach into new verticals."
"Hitachi Solutions America is a leader in cyber security and enterprise collaboration solutions. They are constantly building and progressing into the future," said Tony Abou-Assaleh, CEO of TitanFile. "Their recently-announced Credeon Cloud Data Protection brings cloud security to a new level. This partnership strengthens our position as an enterprise solution in regulated industries."
Enterprises can expect a solution that not only better protects their data transfer, but also expands the scope of their collaborative capabilities.
The new solution will be co-marketed to industries looking to improve operational efficiency by leveraging cloud solutions, but without compromising on security. Such industries include financial institutions, healthcare organizations, government, and professional services providers.
About Hitachi Solutions America, Ltd.
Hitachi Solutions America Ltd., established in 1991, is a wholly owned subsidiary of Hitachi Solutions, Ltd., and maintains headquarters in San Francisco, with offices in New York, San Diego, and Irvine. Together with its parent company, Hitachi Solutions America is part of a global team of over 15,000 employees and provides value-driven services throughout the IT lifecycle, from systems planning to integration, operation and maintenance. For more information, please visit the company's website at us.hitachi-solutions.com
About TitanFile Inc.
TitanFile is focused on creating better ways for people to communicate and collaborate online without having to worry about security and privacy. Using TitanFile, professionals can set-up secure communication channels to share files and messages, track who, where, how and when accessed the shared information, making compliance easy. Granular security controls, end-to-end encryption, mobile access capabilities, and comprehensive audit trails all make TitanFile the best choice for secure communication. TitanFile was named a Top 25 Canadian ICT Up and Comer by Branham Group and won second place in the National Alpha Exchange Innovation competition. Company's website: www.titanfile.com.
Share files and messages

securely

with TitanFile!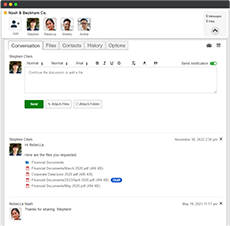 As easy to use as email for staff and clients
Lightning-fast upload speeds
Send files of any size. No storage limitations
Try TitanFile Free