The field of manufacturing is responsible for the creation of products we use daily. These winning ideas are often the results of team work that spans various departments and organizations. Great ideas are usually nurtured through discussion and teamwork. For an industry that's so successful at using collaboration to turn exciting ideas into exceptional products – how do you effectively and securely share diverse large files, including blueprints, with partners?
With the help of a secure file sharing provider.
The right secure file sharing provider not only gives manufacturers a method to securely exchange large files, it also provides a communication space, ensuring that real-time collaboration is easy for both senders and receivers. This sharing and collaboration helps manufacturers work together closely, fostering innovation and developing the best products for consumers.
Interested in learning more about the benefits that secure file sharing could have for your organization? Take a look at our latest resource for the manufacturing industry.
Share files and messages

securely

with TitanFile!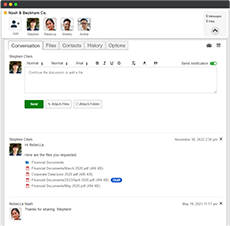 As easy to use as email for staff and clients
Lightning-fast upload speeds
Send files of any size. No storage limitations
Try TitanFile Free