We are all reliant on our smart phones. Whether your focus is on pleasure or business, it's safe to say that your mobile device is never far from your hand or mind. Staying connected is important – but so is staying secure. If your office has a mobile security guideline you at least have a baseline of what to do to secure yourself. If you're a small business owner, or another individual who's interested in protecting your privacy, here are five tips that can help protect your mobile device.
Use a password
This may seem like a no-brainer, but a third of mobile device users do not protect their phones with a password. Having a password helps protect your data and serves as a deterrent for criminals who might be eying your phone.
Update your device
Software updates aren't just restricted to your computer. From time to time your mobile device will prompt you to perform an update. This not only helps provide you with an optimal experience, these updates can also rectify security vulnerabilities that may have been located in previous versions of the operating system. Staying up to date is a great step to keeping yourself protected.
App security
One of the best parts of using a smart phone are the apps. They help personalize your device, giving you access to your favourite games, messaging applications and even sports scores and weather. But apps also have a dangerous side. Some apps can contain malware that's designed to pull information off of your phone, jeopardizing your security. In fact, Google recently had to pull over 50 infected apps from the Android Marketplace.  Protect yourself by reading app reviews before you download, and performing background research. If something feels amiss, go with your gut and don't download the app.
Enable device tracking
In our ever-connected world there's not much worse than losing your phone. That worry is compounded if you know the device contains sensitive information. Many devices come with methods to track them in case they ever go missing. If you're using an iPhone you'll be prompted to set up a tracking app during setup, ensuring you're prepared in case of an emergency. There are alternate options for other devices as well, consider looking into them as soon as you get your phone.
Use AutoLock
Are you diligent about locking your device after each use? Auto locking helps protect your phone – and guards you from the potential of placing an embarrassing pocket dial phone call. Choose a setting that automatically locks your device after a certain period of inactivity.
What other tips do you use to protect your mobile device and the information it contains? Let us know in the comments below.
Share files and messages

securely

with TitanFile!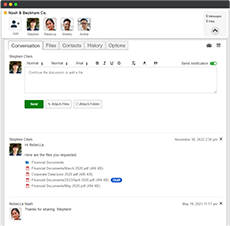 As easy to use as email for staff and clients
Lightning-fast upload speeds
Send files of any size. No storage limitations
Try TitanFile Free