Mark Dineen recounts the whirlwind of mentorship received in the Valley.
Photo credit goes to Kris Krug, the C100's amazing photographer!
The name 48 Hours in the Valley is grossly deceiving; it makes you think that it is humanly possible to fit a full experience of this caliber into two measly days – which is completely unrealistic. Our team ended up staying an extra week in San Francisco after the event had finished to have meetings with all the amazing people we were introduced to through the C100.
In those initial 48 Hours you will sleep very little, talk a bit, but the most important thing you will do is listen. When you arrive in San Francisco be prepared for a hurricane – people are going to throw advice at you from every angle, at every meeting, mentorship session, and social event you attend. You will not be able to put into practice every aspect of guidance you are given; the trick is to just sit back and take in as much of it as you can.
One realization you will come to from the start is that the mentors you are going to be meeting with will NOT know your business better than you; they will know their business and what made them great so take the information with a grain of salt. They only have ten minutes to get a full understanding of your company and they do the best they can.
Another thing to note: important people never have any time! Meetings are as short as twenty minutes; from the second you enter the room the clock is ticking. We had a quick meeting with an energetic man named Rob Labatt who is the head of product and innovation for Digital at Western Union. In our session Rob used a technique called 'pressure testing' where he asks direct questions, one after another, that bring your business down to its knees. This is just as stressful as it sounds and is done to test you. Great companies have to rise to the challenge so be prepared!
The two days will pass in the blink of an eye. At the end of the program, if nothing else, you will come home with a binder full of contacts to follow up with. The half-life of these warm leads is incredibly short; be sure to work them for all the value they are worth immediately after your return.
We at TitanFile are so thankful to have gotten the chance to participate in this wonderful program and hope that you will one day get a chance to experience the same.
Thanks for reading.
Mark Dineen, CTO
Share files and messages

securely

with TitanFile!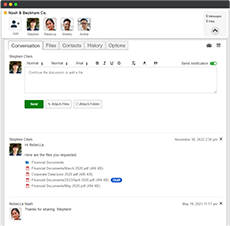 As easy to use as email for staff and clients
Lightning-fast upload speeds
Send files of any size. No storage limitations
Try TitanFile Free