Improving the end-user experience can lead to a better environment between vendors and clients. When vendors consider the technology adoption learning curve, existing workflows, and all-around usability they have a better chance of providing a great product to their legal clients.
September and October have flown by, along with LegalTech Toronto, and we are yet to post something! Well it just so happens that our President and COO, Tony Abou Assaleh got the chance to participate in an expert panel on project management at LegalTech and we thought we would pass the advice on for anyone who did not get a chance to attend the event.
The talk focused on centralizing and automating workflows, with three main topics in mind:
How technology is saving lawyers time with their day-to-day

Examining new practices being adopted in the industry

Best ways to understand the process and apply that knowledge to get desired outcomes
The whole panel was great because it provided a balance between vendors and legal firms, with four speakers in total: Jason Moyse – Senior Advisor at MaRS, Kate Simpson –National Director of Knowledge Management at Bennett Jones LLP, Brandon Robinson –Director of Consulting at RBRO Solutions Inc., and Tony.
As a representative from the vendor side, Tony's section addressed the existing gap between software vendors and their legal customers. As we move into a client-centric environment, we vendors need to understand the key frustration of the people using our technology and with that knowledge, we must address their needs.
It begins with software adoption. Before, decisions on which software to employ were made explicitly by the IT department. This model did not consider how the end user would handle with the learning curve. Now we are seeing increasing attention paid to the end-user's experience. Therefore, the vendors providing software for the legal market must focus first on usability.
Next, lawyers are constantly involved in complex workflows. Right now there exists a gap between these processes. It should not be the responsibility of lawyers to move information from one workflow to another – rather the agile movement of data is something the vendors should provide.
Finally there is increasing attention paid to security. Any legal technology must have this in mind. The key here is to make security useable by the client. Virtualisation is one answer to this problem. New encryption techniques make the Cloud secure while giving the end-user accessibility and efficiency.
To see more about the topic feel free to peruse the following presentation:
Share files and messages

securely

with TitanFile!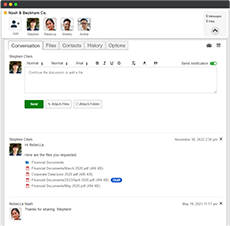 As easy to use as email for staff and clients
Lightning-fast upload speeds
Send files of any size. No storage limitations
Try TitanFile Free