File Retention creates new efficiencies and provides an optimal solution for compliance and security while delivering on its core value of simplistic and easy-to-use technology.
What does File Retention do?
The concept is simple – your confidential files should not have a permanent lifespan and should not be available for download indefinitely. Every confidential file you send can be a potential risk, but it is also very laborious to have to go back and delete all the files you've shared. File Retention limits that risk and also cuts out the labour by allowing you to set automatic delete periods for your files without having to expire your conversation channel.
How does File Retention benefit me?
File Retention can benefit TitanFile professionals in many ways. Here are some ways that it can improve your workflow:
Improve workflow efficiency by saving time on manually deleting outdated files
Improve data security by restricting downloads of confidential files
Comply with data retention policies effortlessly with every file you send
Ensuring security while maintaining ongoing conversations with your clients
I'm interested! How do I set it up?
Contact your account manager or simply ask your account administrator to send in a request to support@titanfile.com.
Check out our support article here to learn how to use this new feature.
Share files and messages

securely

with TitanFile!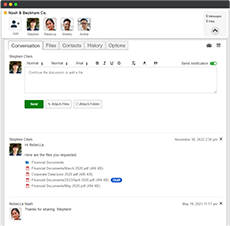 As easy to use as email for staff and clients
Lightning-fast upload speeds
Send files of any size. No storage limitations
Try TitanFile Free