"CC me is a simple feature that enables many benefits: from easy access to conversations, to record keeping, compliance, and e-discovery."
What does CC me do?
Your clients are very important to you so the messages you send to them should be met with the same level of assurance. CC me is a feature that improves assurance by enabling you to see a copy of a message your recipients receive from you. Creating new efficiencies within your TitanFile experience, CC me provides new e-discovery options within your email inbox allowing you to access recent channels and past messages you sent with ease.
How does CC me benefit me?
CC me can benefit TitanFile professionals in many ways. Here are some ways that it can improve your workflow:
Improve confidence in file sharing by seeing a version of a message that your client sees
Easy direct access to recent channels through your email
Ability to search through email inbox for channels and messages
Record keeping and message archiving by leveraging the tools you already use to manage your email
How do I use CC me?
To send yourself copies of your messages
To send yourself a copy of your messages, you must first go into Options. From there, you must check CC me under Defaults. Once you hit Update Settings, you will start receiving copies of messages you send.
Easy access to recent channels and recently sent messages
Copies of messages you send through TitanFile will be sent to your inbox. While in your inbox, you can easily access recent channels and conversations through your inbox by clicking into the email notification and selecting the green Access Files/ Reply to Message button.
As a record keeping tool
With notifications received from messages you send and messages you receive from your clients, you can store messages for specific projects into different folders in your email inbox of choice.
As an e-discovery and compliance tool
If your firm uses an email archiving system for ensuring compliance or future e-discovery, you will now be able to leverage it for conversations that happen in TitanFile. Previously this was possible only with the TitanFile Secure Send add-in for Outlook™. With the CC me feature enabled, you can now get the same benefits for conversations that happen using the TitanFile Web application.
Share files and messages

securely

with TitanFile!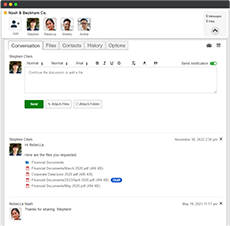 As easy to use as email for staff and clients
Lightning-fast upload speeds
Send files of any size. No storage limitations
Try TitanFile Free