What's new?
Over the next few weeks, we'll be adding a new Trash feature to TitanFile which has been frequently requested by members of the TitanFile community. Your feedback is very important to us as it enables us to continue to develop features that matter!
Similar to how the trash in email works, TitanFile's new Trash feature will enable you to view a list of channels you've deleted. By expanding a channel that's in your trash, you'll have the option to restore the channel to your Active Channels list.
For instances where you prematurely delete a channel that is still needed or accidentally delete the wrong channel while reviewing your Active Channels list, the Trash feature will be especially useful.

By default, deleted channels will only appear in your Trash for 30 days before they are removed automatically. Afterward, you will no longer be able to restore the channels.
Changes to data retention and channel expiry
We'll also be announcing new changes to how data retention and channel expiries work. As a TitanFile client, you're currently able to configure your subscription's data retention policy and control when new channels automatically expire and are deleted from our secure data centers.
With the implementation of our new Trash feature, you will be able to control whether expired channels appear in the trash and for what duration by configuring your data retention settings in your Global Channel Options. More updates coming soon.
Share files and messages

securely

with TitanFile!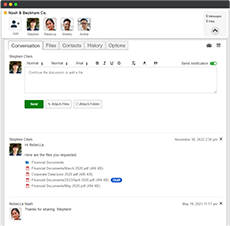 As easy to use as email for staff and clients
Lightning-fast upload speeds
Send files of any size. No storage limitations
Try TitanFile Free