What's new?
Although TitanFile Secure Send has been a favourite feature for a handful of our enterprise users, it had the limitation of not being widely available enough to be enjoyed by all our users. Fear not, TitanFile Secure Send is now available on Windows 10 and Outlook 2016.
We've also brought in the functionality of single sign-on, which makes it so much easier for you to use TitanFile through your Outlook without having to sign in every single time on your personal computer.
What is TitanFile Secure Send?
TitanFile Secure Send is a button in your TitanFile Outlook Plug-in that allows you to send files and messages as if you were communicating in a channel. Secure Send offers the security of TitanFile and the ability to send large files without having to go into the TitanFile app.
Simply craft your message in Outlook, attach your files, hit our Secure Send button, and a channel is automatically generated within your TitanFile account, and your recipient gets a TitanFile notification that grants them access to their file.
Sounds simple? We thought so too! Learn more about Secure Send and how to install the Outlook Plugin here.
What makes Secure Send so special?
One word: integration. With Secure Send, you are able to send large with so much more ease. For our users who do not like to use too many applications and much rather stick to one, this is the perfect solution! Our single sign-on feature to Secure Send now makes the application even more seamless. We are sure you are going to love it!
Share files and messages

securely

with TitanFile!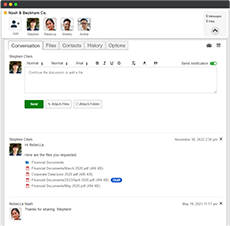 As easy to use as email for staff and clients
Lightning-fast upload speeds
Send files of any size. No storage limitations
Try TitanFile Free