Regardless of the service or product required, consumers usually have a large pool of candidates to choose from when making a purchasing decision. At the end of the day, you want to make sure you stand out as the number one choice. So what's the best way to demonstrate you're a leader in client service? Last month, we shared a blog post about using security and privacy as a competitive advantage. Developing company facing security policies and having security play a role in your corporate mission are all great steps – they demonstrate to your customers that you value their business and are diligent in protecting their personal information. In a world of data breaches that can certainly set you apart.
But you also have another tool in your arsenal for differentiating yourself from competitors and providing optimal client care – collaboration.
While not every position in your company is customer facing, there are always ways that behind the scenes collaboration can be a benefit to your clients. Improvements to customer service processes, product upgrades – these all go a long way in enhancing customer perceptions of your organization. Interested in learning how online collaboration can be effective in departments across your organization? Here are just some examples of the role teamwork can play in betters supporting your customers:
Sales and Business Development 
It's no secret that sales teams need to put their best foot forward when it comes to fostering customer relationships. In many cases, sales and business development are the first points of contact a potential client may have with your organization. Online collaboration provides your sales team with a forum to share common questions and concerns, marketing collateral and any other resources that they are finding success with when engaging with clients. The more prepared your staff are to interact with clients, the more at ease they will be in understanding customers needs and wants.
Research and Development
Whether you've got researchers, developers or both, online collaboration promotes ideas sharing. Through online collaboration, both research and development can share their latest findings with the team, and get feedback on new features. It's a no brainer that clients truly reap the benefit when you've got the best research and/or product. And their happiness with your service has the power to earn you referrals down the road. 
Marketing
Marketing has the power to unite all the departments in your business. When your researcher finds fascinating data that should be shared, your developers have an announcement to make or sales needs help creating sales enablement materials, marketing can help. Online discussions and file sharing help your marketing department create the best materials to excite your customers and support your staff.
Human Resources
Happy employees create happy workplaces. And if your organization is riding the waves of optimism and overall camaraderie that's good news for your customers. Online collaboration helps human resource departments crowdsource ideas on what programs employees would like to see implemented. Human resources teams can also use online collaboration to facilitate remote hires – ensuring that you are not limiting your search for top employees to one geographical region. Everyone wins when your company has top talent.

Customer Support
Troubleshooting customer issues and solving complex problems sometimes require the work of a team. Customer support teams can use online collaboration to share knowledge and troubleshoot customer problems, offering a seamless experience for your customers.
Are you currently using online collaboration in an innovative way to better support your clients? Let us know in the comments below.
Share files and messages

securely

with TitanFile!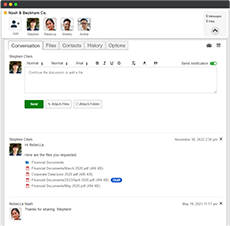 As easy to use as email for staff and clients
Lightning-fast upload speeds
Send files of any size. No storage limitations
Try TitanFile Free