The field of Higher Education is all about collaboration. In-class group work, sharing lecture notes, and students seeking help from professors are all common occurrences on campuses around the world. But the collaboration often goes much deeper than that. Think about advancement teams working with alumni, researchers teaming up on the next big idea and recruitment officers sharing admissions information. While that information needs to be shared, in many cases it also needs to be protected. Colleges and universities must take every step to ensure that student and research information is protected. With all of that collaboration, what are you doing to guarantee your documents are remaining secure?
Secure file sharing helps protect your conversations and files, ensuring you still have the collaboration capabilities you want, while offering the security you need.
Interested in learning more about the benefits of file sharing and collaboration? Read our higher education use case to learn more
Share files and messages

securely

with TitanFile!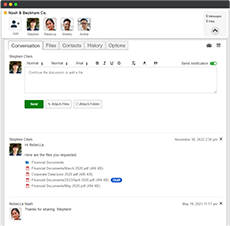 As easy to use as email for staff and clients
Lightning-fast upload speeds
Send files of any size. No storage limitations
Try TitanFile Free