To be a successful freelance graphic designer you need to be able to communicate and collaborate effectively with your clients. For me, freelance work is something I do in the evenings and on weekends, which means email is usually my primary form of communication. In the beginning a free email address and a basic Dropbox account served my needs just fine, but I eventually hit some snags with this setup.
If you have several projects on the go, an email account can become a mess of client emails, with multiple threads of correspondence. Using folders, inbox rules, and labels can help organize your projects, but setup takes several steps and is a practice you have to keep up with in order for it to be effective. In addition, sending and receiving large files presents its own set of problems. Email often has a size restriction on attachments and if you're using a basic Dropbox heavily, you soon find yourself monitoring your precious storage space. It was these annoyances that had me looking for a new client-and project-management solution.
Enter TitanFile – a platform that's all about collaboration and file sharing. The fact that it's also a secure system is an added bonus.
Pretend you're already setup with a TitanFile account and you're starting a new project. Simply create a Channel, a one-click process, and name it. Adding your client is as easy as clicking the Add icon within the Channel and entering their name and email address. Seriously, that's it. You're done.
Use TitanFile for all your communications and file transfers, and your conversations are kept in a channel dedicated to that client. You're able to send and access very large files, and you never have to worry about running out of storage, as there is no storage limit on accounts. If you're a designer, or if you've ever worked with one, you'll know there is a significant amount of back and forth on a project to ensure that everything is perfect. Multiple people and multiple versions are often required. Having a solution that not only allows for large uploads, but also provides a space for feedback and discussion is key.
It doesn't stop there, either. TitanFile has another great feature that graphic designers find useful: comprehensive audit trails. For any activity within your channel, including new messages or files accessed, a notification is sent to your default email address containing the original message (great for a quick update) or letting you know what files were accessed. So if you send a proof or draft of the work you've completed, you'll know when the client has looked at it. It's like a read-receipt without the awkward request.
Since discovering TitanFile, my workflow has been simplified. I spend less time organizing or following up and more time creating, which is something any freelance practice could use. I definitely recommend giving TitanFile a try; you'll find yourself swearing less at your computer screen than ever before.
What ways do you use TitanFile for your job? Let us know in the comments below.
Share files and messages

securely

with TitanFile!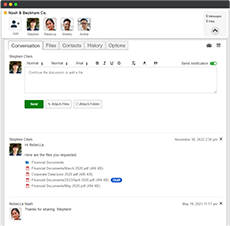 As easy to use as email for staff and clients
Lightning-fast upload speeds
Send files of any size. No storage limitations
Try TitanFile Free