As a law firm, your reputation depends on delivering top-level legal services to your clients. This includes the way you communicate and share files with them.
While email is a traditional method that is easy to use, it's not optimal for security and it makes the files shared between you and your clients prone to leaks. With a secure file sharing solution in place, you can put these privacy and security concerns to rest.
Here are 6 reasons why TitanFile is the Secure File Sharing and Collaboration solution every law firm needs:
1. Military-Grade Security
A leakage of confidential client information is the last thing you want to happen. It'd be an absolute nightmare!
To ensure your files are safe in-transit and at rest, TitanFile is partnered with Hitachi Solutions America and uses its Credeon Cloud Data Protection service to encrypt files with AES-256 bit encryption. Combined with zero-knowledge technology, you own your own encryption keys which means it's virtually impossible for unauthorized persons or parties to access your files. Even we wouldn't be able to decrypt your files without the keys!
2. Simplicity & High User Adoption
You shouldn't have to jump through hoops just to exchange files with your clients. The best file sharing solutions are ones that can be easily adopted by anyone who's using it for the first time, whether it's you, your staff, or your clients.
Learn more about
user adoption
and why it's important in security.
With TitanFile, your employees and clients can get set up in under 60 seconds and start exchanging files and collaborating right away.  It's as simple to use as email.
3. Easy Accessibility
When it comes to handling legal issues for your clients, everything is time sensitive. Since you're constantly on the go, you may not have time to wait until you get to the office to send, receive, or access files from your computer.
TitanFile is available for you to use anywhere that has internet access. It takes seconds to connect to our web app on your mobile phone, tablet, or laptop.
4. Organized Files
With regular email platforms, it's difficult to stay organized when navigating through emails is so troublesome. Often, you'll even find yourself with multiple copies of the same file on your computer. Your file sharing solution should help you store files and keep them organized so you can avoid these problems.
TitanFile allows its users to upload individual files or entire folder structures to keep files organized the way they're supposed to be. Additionally, you can quickly view all your files (sent and received) in a single tab. No need to sort through a mess.
5. Large File Transfer Capability
Have you ever found yourself trying to send a file through email but couldn't because of the file attachment size restrictions? If so, you must agree it's pretty inconvenient.
TitanFile doesn't have any limitations and allows you to send files of any size. You'll even receive upload speeds of up to 8MB which means you can upload gigabytes worth of files within minutes!
6. Individual or Group Collaboration
For most cases, you might be dealing with individual clients. However, there are cases where you'll have to communicate in groups that may include clients, opposing counsel, co-counsel, staff, and other partners. A class action lawsuit is an example of this.
Whatever the situation may be, TitanFile is flexible and allows you to create separate channels and organize them by client name, case, or the matter at hand. You can add as many users to a channel as you'd like and share an unlimited number of files.
---
We really gauge the success of a product by three main things: reliability, usage, and feedback from users. TitanFile has passed all of these metrics with flying colors."

– Kevin Larsen, IT Manager, Gowling WLG (Canada) LLP
View the case study of how Gowling WLG (Canada) LLP adopts TitanFile in their operations: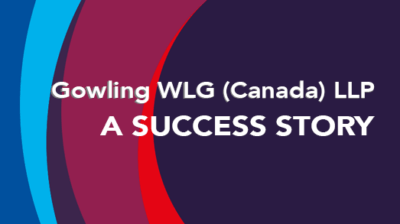 Want to introduce TitanFile to your law firm? Get a free trial.