Photo credit goes to Kris Krug, the C100's amazing photographer!
TitanFile shares their process – with insight from successful applicants: Figure1, ITManagers.net, ePACT, and ClearFit.
If you are part of the tech startup community in Canada you've definitely heard about 48 Hours in the Valley, or "48 Hours" as it is affectionately known, graciously brought to you by the C100 group. If you are not familiar, you really should get acquainted. 48 Hours is an invaluable opportunity to meet influential folks who genuinely want to help Canadian companies succeed.
Twice a year, every year, hundreds of hungry companies vie to be one of the chosen twenty to go to Silicon Valley for two intense days of networking, investor meetings, workshops, and mentorship. So you can imagine how intense the competition to be accepted might be.
When TitanFile was accepted to go to 48 Hours this past winter, we were somewhat surprised that we made it through considering how much we struggled with the application. Though, we are certainly not alone in that sentiment; It's very difficult to anticipate, with full accuracy, what is going to work, what won't, and which key points are going to be outstanding on paper. Poor feedback mechanisms are an unfortunate reality of applying to a lot of these types of programs. Often times, companies have to wait 6-12 months to try again only to take another stab in the dark. We wanted to accelerate that process and give startups a chance to learn from other people's mistakes so that they could write a better 48 Hours application in the future.
Here are some different perspectives and advice from folks that were successful in their applications in recent cohorts –
How many tries did it take you to get in? Follow up – what did you do differently the second/third time?
"Applied twice. Once when we were extremely new and did not have much traction, then 6 months later when we had way more proof points like product-market fit, paying customers, decent user numbers etc. The cohort we were with were all very much well down highly successful paths/had great traction, so very early start-ups should consider that…that said, if you have an insanely disruptive solution to a massive problem but are just starting out, don't stop from applying!"
– Christine Sommers, CEO and co-founder of ePACT
Is it better to be concise or more detailed in your response?
"It's always better to be concise. But be compelling." – Ben Baldwin, founder and co
-CEO of ClearFit
What was the most difficult part of the application for you? Follow up – what was your process for tackling that section?
"There was a question that asked about our 3 biggest challenges. It's always hard to answer a question like that. Ultimately we ended up doing several drafts with several members of the team until it was right."
– Annie Williams, Communications Coordinator at Figure1
What would be the biggest piece of advice that you could give to startups applying for 48 hours?
"The goal of the program is to help startups. The more clarity you have on what your strength and challenges are, the more likely that selection committee will feel that you're at a stage where the program could have a big positive impact on your business."
– Tony Abou-Assaleh, CEO and co-founder of TitanFile
"If you don't know anyone who's A C100 Charter Member or C100 Partner, reach out to some. They would not only be instrumental to your application process, but would also likely be a good contact to have."
– Annie Williams, Communications Coordinator at Figure1
"The best way to stand out is to be able to demonstrate success as a startup. It's hard to have a good idea and to build a company around that idea but it's even harder to sell that product or service to the first customers. The customers and testimonials validate that the market exists and that your solution has traction to capture a portion of that market."
– David MacFarlane, President of ITManager.net
"We had lots of referrals, so we were not applying out of the blue. See if you can get a lot of supporters who will also recommend you. The more people who are talking about your business, the better!"
– Ben Baldwin, founder and co-CEO of ClearFit
"Think BIG! It is an entirely different world in the Valley, where valuations are skyrocketing for companies that demonstrate the opportunity to reach millions of users per year. As Canadians, we are often considered 'too nice' and not aggressive in our plans and growth strategies. The C100 is about promoting Canadian companies as potential powerhouses where we can scale to address world-wide market opportunities – so articulate this clearly in your application." – Christine Sommers, CEO and co-founder of ePACT
TLDR:
There isn't one quantifiable formula to a winning application, but it's important to articulate your need, your greatness as a startup, be sure to expand your network, and THINK BIG!
This year the process is a little more complicated in that the companies first have to get nominated by alumni of the program to go on to the application round. Be sure to get on someone's radar soon because the June cohort is fast approaching! If you have ever worked closely with the TitanFile team don't hesitate to contact us – we are always happy to nominate deserving startups.
If you have applied or considered applying, what do you think would help make it a success. We would love to hear your comments.
Share files and messages

securely

with TitanFile!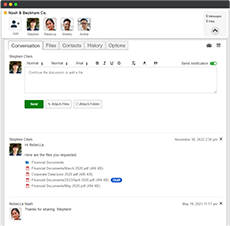 As easy to use as email for staff and clients
Lightning-fast upload speeds
Send files of any size. No storage limitations
Try TitanFile Free