It's nearly tax season! If you're an accountant or auditor, this is probably the most trying time of the year. On average, Big 4 employees find themselves working 55-85 hour work weeks, an up to 12% increase from the non-tax season. There's a reason "Big 4 Burnout" trends on Google every fall.
Public accounting burnout is real and affects emotional, physical, and mental well-being. Luckily, we have some tips for accountants to de-stress this 2023 tax season.
What is Burnout?
Burnout is a state of extreme and protracted stress-related tiredness that affects one's emotions, body, and mind. Career burnout can leave employees feeling emotionally spent and unable to function at work or in other areas of their lives. It often involves a feeling of reduced accomplishment and loss of personal identity.
Signs of Burnout
Sometimes, it can be difficult to understand the signs of burnout. Especially if you are already dealing with emotional and mental health difficulties (ex. Depression, Anxiety). However, there are very common symptoms people experiencing burnout face – here are a few:
fatigue
high blood pressure
difficulty sleeping/insomnia
neglecting personal care and needs
feelings of sadness, irritability, or depression
absenteeism
lack of concentration
How to Avoid Tax Season Burnout
1. Decrease Time Per Tax Return
There are many methods to cut down on time spent on each tax return, but examining your procedure is the easiest place to start. To survive in this industry, you need to embrace automation and use technological tools that improve your strategy.
For example, many accounting firms use secure client portals, such as TitanFile, to easily send and receive tax documents safely online and communicate with clients in one centralized location. Additionally, having a project management system, such as Monday.com, can help organize workflow management.
2. Avoid Multitasking. Prioritize Your to-do List
Although multitasking seems like a smart plan to tackle more work at once, research suggests it is less productive than focusing on individual tasks. In reality, it divides your attention which leaves more room for error. Alternatively, you should prioritize your tasks to ensure the most time-sensitive or labour-intensive work is completed ahead of the less important ones.
To stay afloat, we recommend
Create a centralized location to keep track of your tasks – whether it be an excel sheet, project management system, or basic pen and paper.
Rank the items from highest priority to lowest – this could be based on the time expected to complete the tasks to deadlines
Decide how to handle each task using the 4 D's: delegate (to someone else), do (complete yourself), defer (complete later), delete (remove from list).
Start working!
3. Take a step outside
It's pretty obvious advice, but the facts don't lie. Leaving your home for some quality time outdoors not only alleviates stress but has been linked to improvements in mood, emotional well-being, and cognitive benefits. Unfortunately, when people are overwhelmed with work, they tend to neglect their physical and social needs. Especially, since the office has transitioned into people's homes in recent years.
Similar to tips for beating procrastination, the best advice we can give you to make sure you take a break is: The moment you think about needing a break / wanting to go outside – do it immediately. You're more likely to do something if you act on it immediately.
Conclusion
Tax season can be one of the most stressful times of the year for accountants and finance professionals. Luckily, TitanFile is offering 33% off annual subscriptions for you this season. Feel the benefits of secure two-way file-sharing, centralized communication, state-of-the-art security, and large file transfers, today.
Share files and messages

securely

with TitanFile!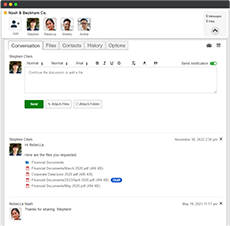 As easy to use as email for staff and clients
Lightning-fast upload speeds
Send files of any size. No storage limitations
Try TitanFile Free