Nov 19, 2020 – TitanFile, an award-winning secure file sharing and collaboration solution provider for organizations in highly-regulated industries, today announces that it has been chosen as a winner of the Red Herring Top 100 North America award.
The winners have been chosen from thousands of entrants, whittled down to hundreds presenting their companies at the virtual conference on November 17th and 18th. The event, led by Red Herring chairman Alex Vieux, included two days of keynote speeches, discussions, and finalist presentations.
Industry experts, insiders, and journalists on a wide variety of criteria including financial performance, innovation, business strategy, and market penetration judged companies. Winners ran the gamut of verticals, from FinTech and Artificial Intelligence to Security, IoT, and many more industries.
Red Herring's editors have been evaluating the world's startups and tech companies for over two decades. It gives them the ability to see through the industry's hype to pick firms that will continue on a trajectory to success. Brands such as Alibaba, Kakao, Skype, Spotify, Twitter, and YouTube have all been singled out in Red Herring's storied history.
"What has excited me most is to see so many people forging niches in high-tech and cutting edge sectors," stated Vieux. "Some of the technical wizardry and first-rate business models showcased at the conference have been fantastic to learn about. We believe TitanFile embodies the drive, skill, and passion on which tech thrives. TitanFile should be proud of its achievement – the competition was incredibly strong."
"We are honored and humbled to be counted among the top 100 companies in North America, " added Tony Abou-Assaleh, President and CEO of TitanFile. "Red Herring has a long track record of recognizing high potential companies that go on to accomplish great things. It is now up to us to live up to this expectation and deliver on our vision."
Following TitanFile's Top 100 win, the company is invited to present at the Top 100 Global event next year that will encompass the best-in-show from the Top 100 Europe, North America, and Asia. Red Herring is dedicated to supporting TitanFile's continued path to success and innovation.
About TitanFile
TitanFile is an award-winning secure file sharing and client collaboration platform. TitanFile is as easy to use as email, resulting in increased efficiency, cost savings, and higher customer satisfaction while improving security and compliance. The TitanFile platform is comprehensive and supports diverse use cases and workflows such as secure file sharing, group collaboration, customer-initiated workflows, secure distribution lists, shared mailboxes, and committee work. TitanFile's clients range from national enterprises providing financial, insurance, and legal services, to government agencies and regulatory bodies, to small businesses.
Share files and messages

securely

with TitanFile!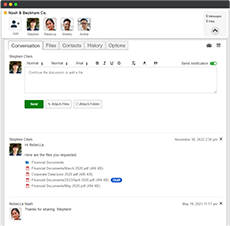 As easy to use as email for staff and clients
Lightning-fast upload speeds
Send files of any size. No storage limitations
Try TitanFile Free