TORONTO, ON, April 6, 2017 – TitanFile announced today their sponsorship of the Annual Travel Health Insurance Association (THiA) Conference in Las Vegas this year. The conference is a high-level convention that gathers travel insurance professionals and industry leaders alike for an unforgettable four days of networking, education, and entertainment. The event will feature keynote speakers such as Jennifer Hendry from the Canadian Tourism Research Institute, Jill McCutcheon from Borden Ladner Gervais LLP, and CBC's Jesse Hirsh, and will include plenty of group activities, such as the 12th Annual THiA Golf Classic and the Red Rock Canyon Tour.
Sessions are designed to engage and inspire leaders to better address current threats and opportunities in the travel health insurance industry and incorporate them within their business strategies.
The conference will be held from April 30th to May 3rd at the VDARA Hotel and Spa, located at the heart of the Las Vegas Strip. Registration tickets are available online here.
TitanFile's sponsorship represents the company's continued support for the travel health insurance industry and its leaders. This event marks the fourth attendance of the company at the Annual THiA Conference since 2014. Previously, TitanFile's president, Dr. Tony Abou-Assaleh, was a keynote speaker at the THiA Annual General Meeting in 2013. As a strong proponent of the industry, TitanFile's goal is to engage with the attendees and share their enthusiasm towards the event. TitanFile executives are excited to share their expertise in optimizing workflows specific to the insurance industry, as well as answering questions around security and compliance relating to external correspondence, handling claims, and coordinating with third party administrators and providers. Offering a service loved by countless legal and health professionals, TitanFile looks to give back to their clients at the event.
About TitanFile
TitanFile is the most intuitive and comprehensive secure correspondence and file sharing solution for the insurance industry. TitanFile helps administrators, advisors, adjusters, lawyers, and other professionals create private collaborative workspaces to exchange messages and documents of any size. Our clients include some of the largest insurance companies and law firms in Canada and abroad. TitanFile is a strong proponent of the travel health insurance industry and looks to offer the best solution to professionals in the industry. For more information, please visit www.titanfile.com, or call us at 1-855-315-6012.
For further media inquiries
Sammi Pun, Media Relations
TitanFile Inc.
Phone: 1-855-315-6012, ext 5
Email: press@titanfile.com
Share files and messages

securely

with TitanFile!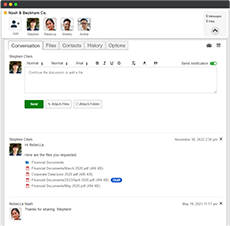 As easy to use as email for staff and clients
Lightning-fast upload speeds
Send files of any size. No storage limitations
Try TitanFile Free