TORONTO, ON – As annual supporters of the Legaltech community and experts in Secure File Sharing, TitanFile Inc., a file sharing solution and correspondence tool for legal professionals, happily announce their attendance at Legal CIO Forum, a conference at Legalweek New York that gathers many CIOs for an opportunity to stay updated on the latest legal technology trends and discover opportunities and challenges faced by other CIOs from many firms in the industry.
TitanFile is hosting the event's Wednesday Cocktail Reception on January 31 from 4-5PM EST. "Legal CIO Forum brings together so many thought-leaders from diverse backgrounds to exchange their knowledge and insights of the industry," says Tony Abou-Assaleh, COO of TitanFile, "this makes a cocktail reception the optimal place to share and learn in a very casual environment and mingle with peers and industry leaders."
Legal CIO Forum will be held January 31st to February 1 at the New York Hilton Midtown. Attendees will have the opportunity to learn through workshops and keynotes while exchanging practical guidance from like-minded peers at many exclusive networking events.
As annual attendees of the event, TitanFile is excited to extend their continuous support to LegalTech and its community of like-minded legal professionals. TitanFile looks forward to sharing our experiences on protecting and sharing confidential data on the cloud, showcasing our platform's newest features and additions, and giving out fun branded business apparel to attendees. TitanFile will be exhibiting at Mercury Rotunda on both dates and could be found at Booth #10.
---
About TitanFile
TitanFile is an award-winning secure messaging and file sharing platform for external correspondence among attorneys, support staff, clients, and other professionals. TitanFile is as easy to use as email, resulting in increased efficiency, cost saving and higher customer satisfaction while improving security and compliance.
Share files and messages

securely

with TitanFile!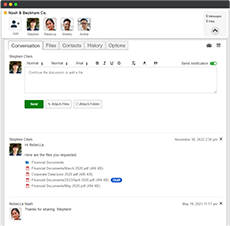 As easy to use as email for staff and clients
Lightning-fast upload speeds
Send files of any size. No storage limitations
Try TitanFile Free