TitanFile will be showcasing a more secure and efficient way for European law firms to exchange confidential information with their clients and other outside parties.
TORONTO, ON – November 15th, 2022 – TitanFile Inc., a leader in secure file sharing serving law firms, financial service providers, healthcare providers, and government organizations, today announces its first appearance at ILTACON Europe 2022 on November 17th, 2022.
TitanFile has been a regular sponsor of events hosted by the International Legal Technology Association since 2013. TitanFile has made a tremendous impact on North American law firms by enabling them to replace legacy file sharing methods such as email, fax, courier, and file transfer protocol (FTP) with a more intuitive, yet secure cloud-based application. TitanFile is typically deployed enterprise-wide as a self-serve solution for staff to exchange confidential information without the need for IT intervention. Although already having many customers in the European market, this will be TitanFile's first time attending an ILTACON Europe event due to the COVID-19 pandemic.
"Law firms in the UK and the rest of Europe care deeply about protecting their client data," stated Tony Abou-Assaleh, President and CEO of TitanFile Inc. "We are well positioned to provide the highest level of security and compliance to our clients, and offer EU data residency for our European customers."
TitanFile has been consistently rated as the most secure file-sharing platform by many publicly available security rating sites. Over the last 15 months, TitanFile has achieved 4 globally-recognized certifications which include SOC 2 Type II, ISO 27001, ISO 27017, and ISO 27018. These certifications are the gold standard in information security today and serve as attestations to the maturity of TitanFile's information security management practices.
About TitanFile
TitanFile is an award-winning secure file sharing and client collaboration platform. TitanFile is as easy to use as email, resulting in increased efficiency, cost savings, and higher customer satisfaction while providing world-class security and compliance. The TitanFile platform is comprehensive and supports diverse use cases and workflows such as secure file sharing, group collaboration, customer-initiated workflows, secure distribution lists, shared mailboxes, and committee work. TitanFile's clients range from national enterprises providing financial, insurance, and legal services, to government agencies and regulatory bodies, to small businesses. For more information, please visit www.titanfile.com or call us at 1-855-315-6012.
Media Contact
Name: Joaquim Rodrigues
Email: press@titanfile.com
Press kit: https://www.titanfile.com/press-kit/
Share files and messages

securely

with TitanFile!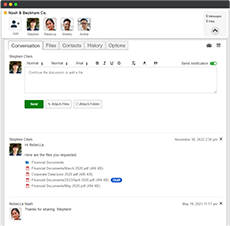 As easy to use as email for staff and clients
Lightning-fast upload speeds
Send files of any size. No storage limitations
Try TitanFile Free