Look out Arlington, Virginia! TitanFile is coming for ILTA's LegalSEC Summit on June 13th and 14th as sponsors! The two-day event focuses around all things security for the legal sector and aims to provide insightful and educational information on security to legal professionals of all levels of expertise.
As a leader in legal technology, TitanFile is sponsoring the event to extend our support for the legal industry and our clients who we aim to satisfy every day through our file sharing and correspondence service.
Many experts attending the event will share their experiences related to information security and develop takeaways for you to use in your organization. TitanFile's Victor and Tony Abou-Assaleh will be attending the event to provide resources and consultation on how you can better improve and update your legal security protocol.
We invite all attendees to visit our booth at the event and check out all the exciting things we have in store for you!
For more information on the event, please check out ILTA's official page for the event here.
Share files and messages

securely

with TitanFile!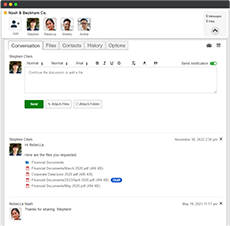 As easy to use as email for staff and clients
Lightning-fast upload speeds
Send files of any size. No storage limitations
Try TitanFile Free