A letter from TitanFile's CEO to our community:
The COVID-19 (novel coronavirus) pandemic has impacted our lives in profound ways. As the situation is rapidly evolving, I wanted to reach out personally to let you know what we are doing at TitanFile to keep our employees safe, ensure ongoing high-quality service for clients, and support our community.
We're open for business
On March 6, 2020, TitanFile proactively enacted the business continuity plan ensuring staff can work from home and continue to provide superior service to our clients. Our employees are following all government guidelines regarding social distancing, limiting travel, and effective hygiene management.
Our clients can expect continued, uninterrupted service and support throughout this crisis. We understand that this rapidly changing situation may impose new challenges for our clients and we are committed to helping you and supporting you throughout this time.
Social distancing and working from home (WFH) are slowly becoming the norm in combating the COVID-19 pandemic. And with WFH, maintaining the security and privacy of your customer's data is of paramount importance. TitanFile's clients are already in a position to service their customers remotely through a secure and compliant collaboration portal.
You can speak to us live.
With schools closed and many of our clients working from home. Our support staff are available to assist you and answer your questions. Effective immediately, we are extending our live chat and email support hours to be 9:00 am to 9:00 pm ET to accommodate the changes in our client's work schedules. You can also reach us by phone at 1-855-315-6012 between 9:00 am and 6:00 pm ET.
Our fight against COVID-19
COVID-19 may be causing financial hardship to a lot of small businesses and organizations. It's tax season. It's travel season. And it's a health crisis for many. Numerous organizations and their customers have been adversely impacted by this outbreak. To help these organizations survive COVID-19, TitanFile is offering three (3) months of free, unlimited Professional TitanFile licenses to small professional service providers, NGOs, and nonprofits*.
https://www.titanfile.com/covid-19-free-program
Please share this message to any SMB/NGO/nonprofit who might be impacted and could benefit from a secure file sharing and client collaboration solution to service their customers.
I want to reiterate my commitment, and that of my team at TitanFile, to safely and securely connect you to your customers. We want to thank you for being a part of the TitanFile community.
If there is anything else we can do to help, please contact us.
Sincerely,
Tony Abou-Assaleh, PhD
President and CEO
TitanFile Inc.
* Conditions apply. Details at: https://www.titanfile.com/covid-19-free-program
Share files and messages

securely

with TitanFile!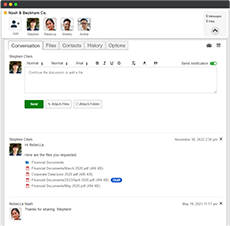 As easy to use as email for staff and clients
Lightning-fast upload speeds
Send files of any size. No storage limitations
Try TitanFile Free