What is Data Privacy Day?
Data Privacy Day originated in Europe to commemorate the first legally binding international treaty dealing with privacy and data protection, which was signed on January 28th, 1981. Since then, many countries have joined in on January 28th every year as a global effort to raise awareness around the importance of privacy and protecting personal information.
The fact is, millions of people around the world are unaware or uninformed of how their information is being collected, used, or shared today. This is concerning because this ignorance is contributing to the number of frauds, identity thefts, and other data breaches that are growing each year.
Thoughts from TitanFile's CEO, Tony Abou-Assaleh:
"Everyone has the right to privacy and it is our collective shared responsibility to ensure that we preserve the privacy of individuals and afford them a safe and trusted platform to communicate safely online."
How you can contribute to Data Privacy Day
1. Know your own privacy rights!
Every country has its own set of privacy rights to help its citizens maintain their own privacy. Below are some links where you can learn more about your rights:
2. Spread awareness
You're likely going to see a lot of content today related to data privacy. When you see something that you think will be valuable to others, don't forget to share it on your social feeds or directly with colleagues, friends, and family.
3. Improve the way your company handles data
If you are part of a leadership team at a company, do an internal review to see if there are ways you can improve the way data is being collected, used, or shared. It's your duty to make changes that will preserve the privacy of important information.
What is TitanFile?
TitanFile is an easy-to-use file sharing solution that allows you to securely exchange confidential documents and files with your clients and colleagues with peace of mind.
Share files and messages

securely

with TitanFile!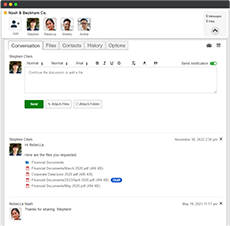 As easy to use as email for staff and clients
Lightning-fast upload speeds
Send files of any size. No storage limitations
Try TitanFile Free