We care a lot about security and so do our clients. This is why our team is diligent in ensuring that our platform's security infrastructure is kept up to date and incorporates the best security and privacy practices.
We also care about quality and being the best at what we do so we frequently compare how TitanFile stacks against other major players in the industry using publicly available sources.
This week, we compared TitanFile with ShareFile, Box, Accellion, Sync, Egnyte, and ExoCloud, and came to the conclusion that TitanFile is the only platform that is consistently rated with an A or higher by multiple independent resources.
Below are the tools we used and our findings as of May 28th, 2021:
---
SecurityScorecard
SecurityScorecard is the global leader in cybersecurity ratings. It is the only company that continuously rates the security posture of more than two million companies worldwide and provides them with a security score. The security score is determined by several risk factors including DNS health, IP reputation, web application security, network security, endpoint security, and patching cadence. Organizations use SecurityScorecard as a resource for evaluating potential new solutions to deploy.
On SecurityScorecard, TitanFile currently has the highest security score in the file sharing category!
You can sign up for a free account on SecurityScorecard and check the security scores of your favourite service providers – or even your own company.
---
ImmuniWeb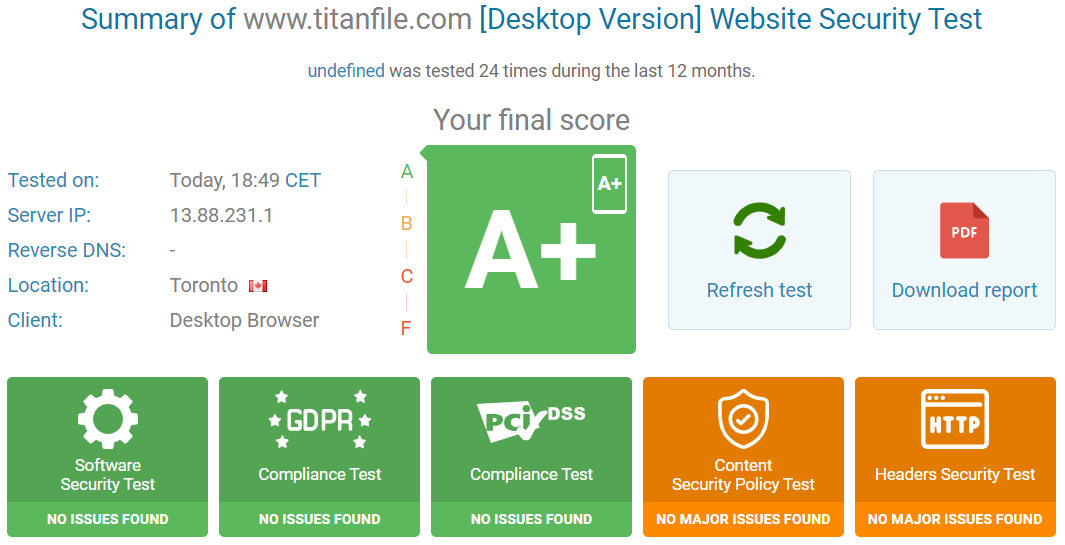 Screenshot captured from https://www.immuniweb.com/websec/www.titanfile.com/BnbDpcFZ/
ImmuniWeb is a global application security company headquartered in Geneva, Switzerland. The site uses AI technologies to scan and test corporate websites for security vulnerabilities.
Due to TitanFile's HIPAA and PCI DSS compliance, and implementation of industry best practices, it was given an overall rating of A+. Box and ExoCloud also received an A+.
| | | | | | | |
| --- | --- | --- | --- | --- | --- | --- |
| TitanFile | ShareFile | Box | Accellion | Sync | Egnyte | ExoCloud |
| A+ | A | A+ | A | C | A | A+ |
---
SSL Labs

Screenshot captured from https://www.ssllabs.com/ssltest/analyze.html?d=titanfile.com
SSL Labs uses a collection of tools to test how SSL is deployed on a website. After scanning a website's SSL certificate, protocol support, key exchange, and cipher strength, it provides an overall rating for the company. A less than perfect score often indicates that the site supports insecure configurations or outdated protocols that could be vulnerable to exploits.
TitanFile's current rating on SSL Labs is A+ which is the highest score that can be achieved. Box also shares the same score as TitanFile. Other file sharing software providers received a score of A or lower.
| | | | | | | |
| --- | --- | --- | --- | --- | --- | --- |
| TitanFile | ShareFile | Box | Accellion | Sync | Egnyte | ExoCloud |
| A+ | A | A+ | B | A | A | A |
---
Security Headers

Screenshot captured from https://securityheaders.com/?q=https%3A%2F%2Fwww.titanfile.com&followRedirects=on
HTTP response headers provide significant levels of protection for websites. Security Headers is a tool used to scan HTTP response headers, assess them, and provide further information on missing headers. To this date, Security Headers has scanned more than 144 million sites around the world.
Security Headers gave TitanFile, ShareFile, and Exocloud an overall rating of A. Sync was given the lowest rating of D.
| | | | | | | |
| --- | --- | --- | --- | --- | --- | --- |
| TitanFile | ShareFile | Box | Accellion | Sync | Egnyte | ExoCloud |
| A | A | C | C | D | A | C |
What makes TitanFile so secure?
TitanFile is a SOC 2 compliant platform that provides companies with a secure and intuitive way to share files and collaborate with internal and external recipients. TitanFile is one of the only file sharing platforms on the market that provides true zero-knowledge file transfer and storage through client-side encryption. The technology enables users to own their own encryption keys, ensuring that messages and their contents are only viewed by intended recipients. Not even TitanFile can penetrate files protected by zero-knowledge security.
TitanFile's other state-of-the-art security capabilities and features include encryption in transit and at rest, multi-factor authentication and single sign-on (SSO), granular access control, detailed audit logs, and data storage on ISO-certified data centers.
Today, TitanFile is used by large government bodies, Am Law 100 and 200 law firms, financial planning firms, and accounting firms across the United States, Canada, and Europe as a one-stop shop for all secure file sharing and collaboration use cases.
TitanFile plans to continue developing new features and capabilities that will enable its clients to productively exchange information with peace of mind.
Share files and messages

securely

with TitanFile!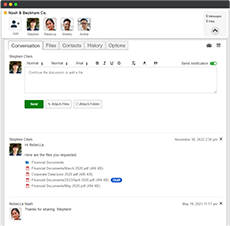 As easy to use as email for staff and clients
Lightning-fast upload speeds
Send files of any size. No storage limitations
Try TitanFile Free