There's an old saying that says if you choose a job you love you'll never work a day in your life. I think that's true. There are many components to finding happiness in your career. Amicable and cooperative co-workers, snacks in the office and the ability to work from home one day a week – those are all factors that can make someone happy with their job choice, and they're all part of your corporate culture. Corporate cultures shape everything at your organization from employee retention to productivity, and can help set you apart from competition and attract top talent.
Corporate culture isn't limited to just one segment of your business. Each component works together to help you achieve your organizational goals. If your employees are happy, they're productive. If they're productive they're probably feeling inspired, driving innovation. That leads to better products and more sales. It's a winning scenario for your organization. Last week, we discussed how your organization can develop a corporate culture focused on security. When you think about your culture, do you recognize the importance that collaboration has on your business? In our last blog post on corporate culture we discussed the changes you can make to implement a security focus. This week we're offering up some of the possible benefits of focusing on collaboration at your organization.
Troubleshoot issues
Initially, when you're presented with an issue you might take some time to mull it over yourself. But there comes a point when there's no forthcoming solution and you take it to a team for a little advice. Collaboration helps bring co-workers together to resolve problems that may have otherwise been left to fester. This helps your organization improve results and come up with big ideas that might have otherwise went undeveloped.
Understand work habits
Through collaboration you'll have the opportunity to know more about your co-workers. This doesn't just include their birthday and what they like to do to unwind on the weekend. Working closely on projects provides insight on different work habits, project management skills and organizational abilities. By recognizing that Ryan in marketing enjoys working early in the mornings and has impeccable event management skills, co-workers will know to plan meetings for the start of day, and to include him on planning the upcoming client appreciation party. Knowing more about the habits and skills will help employees not only find tasks that are complimentary to their abilities, but also achieve their highest level of success.
Foster innovation
One of the primary reasons Marissa Mayer gave for calling back Yahoo employees was the need for employees to be working together in a shared space to drive innovation at the company. While working from home can be a great option for some, not much beats face-to-face time. Let collaboration fuel the innovative fire at your business. With time set aside for employee collaboration and brainstorming, your creative and hardworking staff might uncover an idea that has the potential to grow your business.
Celebrate openness
Collaboration encourages sharing. That can come in the form of compliments on a job well done or constructive criticism when a project is not rolling out as planned. Use the collaboration and openness of your workplace to recognize an issue before it becomes a problem, and help your employees remain successful and enthusiastic about their role in the organization. When collaboration is a constant in your organization, employees will feel encouraged to share their feedback and opinions.
Collaboration is an important component of any workplace. How you implement it and foster its development is up to you. Are you fostering a corporate culture surrounding collaboration? What are your tactics? Let us know in the comments below.
Share files and messages

securely

with TitanFile!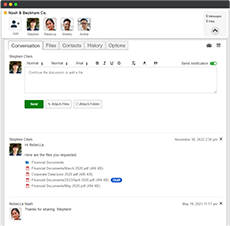 As easy to use as email for staff and clients
Lightning-fast upload speeds
Send files of any size. No storage limitations
Try TitanFile Free