As our world becomes more and more technologically based, it is imperative to discuss the need for digital signatures. The pandemic sure has changed things over the last several months. But, that does not mean you can't be productive. With the help of digital signatures, you can continue to collaborate with your clients and other external parties and move your business forward.
By using digital signatures to validate documents, you can be sure that this procedure will keep information safe and sound. Here are five advantages of digital signatures:
1. Convenience for your clients and other parties
Since digital signatures allow clients to have access to signing documents from anywhere and anytime, it provides a great deal of flexibility and convenience. There is absolutely no need for the customer to sign off things and mail them to you or make a dedicated trip to your office. These are both in the past.
Now, with just a few clicks from your end and your clients', documents can be signed.
2. Security and authentication
Security is an essential part of digital signatures. Since digital signatures are often encrypted, you can bet your information will get protected like never before. Your documentation will not be tampered or altered, and your signing off will be legitimate in the signing process.
Digital signatures also offer the option to require two-step verification, PINs, or passwords for additional layers of protection from signees. This feature helps with authentication.
We can't forget to mention time stamping as well. Most digital signature applications will provide audit trails which show the time and date that signings happened. This logged evidence can help prove that signatures are legitimate.
Think about all the businesses that use digital signatures to get work moved along quicker. From the government to healthcare, to legal to financial services, digital services can get things done more effectively than ever before.
Government and regulatory use electronic entities for budgets, laws, and other congressional bills.
Healthcare needs digital services to help improve treatment options and administration protocols. With data security stronger than ever before, healthcare companies can comply with regulations like HIPAA and PIPEDA like never before.
Financial service providers use digital signings to help with paperless billing and banking, insurance documents, and mortgages, among other things.
Legal professionals deal with with several agreements and other shared files during litigation.
Of course, digital signatures offer the same benefits for other industries such as manufacturing and accounting as well.
3. Faster Turnaround Times
Not only do digital signatures offer higher convenience and flexibility, but they also improve turnaround times as well!
In the past, the signing may have happened with a third-party to oversee the process. This can now happen virtually by simply involving others during the digital signing process. Documents may have also previosuly be sent in the mail for signature. This would require that documents are delivered to the recipient successfully, signed and then returned to the sender. How inefficient.
With digital signatures, you can have documents signed within minutes.
4. Cost Savings And Reduced Environmental Waste
In the grand scheme of things, businesses save money when they use digital signatures. With no paper signatures pages to sign off on, no envelopes and postages to place the signings in, and no delivery costs, digital signatures are a budgeter's dream. In addition, businesses will not be adding to their carbon footprint by using less paper to help the global environmental world.
---
As you can see, there are many reasons to go with digital signatures over the traditional paper-based ways of the past. With convenience, security, faster turnaround times, cost savings, and environmental benefits, digital signatures are a no-brainer in the business world. Set yourself up for success, and implement digital signatures today. You will not be disappointed in the slightest because you will have a piece of technology that will benefit what your business is already doing.
TitanFile supports digital signatures
TitanFile is a leading secure file sharing and client collaboration platform that now integrates with DocuSign to allow you to request digital signatures with one simple click. Documents will be signed and reuploaded onto TitanFile's secure platform so that your documents are always kept secure.
Learn more about TitanFile's DocuSign integration.
Share files and messages

securely

with TitanFile!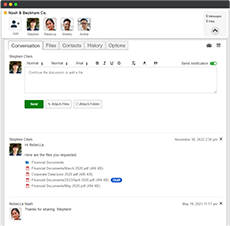 As easy to use as email for staff and clients
Lightning-fast upload speeds
Send files of any size. No storage limitations
Try TitanFile Free