Why Canada is Investing in Cybersecurity
Due to COVID-19, there was a sudden rise in internet traffic around the world. Many individuals rely on the internet for social networking, news, media, and other activities such as online banking. Professionals rely on the internet for servicing clients remotely and business meetings.
As online activities grew, so did the concern for cybersecurity. The digital economy is rising, yes, but so is the number of cybercriminals. Criminals work around the clock to steal information from internet users through phishing and other malicious code designed to penetrate security systems. To aid this, Canada aims to counteract the problem by creating a powerful cybersecurity sector that can help protect Canadian businesses. This is why the Canadian government Cyber Security Innovation Network program was created.
About the Cyber Security Innovation Network program
On the 6th of May, 2021, the Honourable François-Philippe Champagne, Minister of Innovation, Science and Industry, set in motion the new Cyber Security Innovation Network program. From 2021 to 2025, this program will be launched with a fund of $80 million.
"Strong cybersecurity expertise and innovations are key to protecting Canada's data and intellectual property and to maintaining the competitiveness of Canada's businesses," stated the Honourable François-Philippe Champagne. "Today's announcement builds on the Digital Charter's commitment to safeguard Canadians' digital privacy and security. It will also help maintain Canada's role as a world leader in cybersecurity, creating well-paying jobs and economic growth."
The goal of the program is to create a national network built with multiple experts in different fields to contribute to cybersecurity alongside institutions from all across the country. This includes non-profits, the private sector, post-secondary institutions, and governments on the provincial, territorial, and municipal levels.
Partnering up with different institutions and governments will help expand this program at a more rapid pace. In addition, these parties will also be able to enhance powers on research and development, commercialization of products, services, and other processes, and cybersecurity talent and workforce in general.
Research Centers in Canada
Canadian Centre for Cyber Security (Cyber Centre) -The Cyber Centre is Canada's authority on cybersecurity. The industry has united all existing cybersecurity experts from operations such as Public Safety Canada, Shared Services Canada, and the Communications Security Establishment to one effective and operational organization. For 70 years, the Cyber Centre has been up and running––serving the private sector and the Canadian public with expert advice, guidance, and support on anything cybersecurity.
Their main goal as the Canadian Centre for Cyber Security is to lead the government's response to cybersecurity events. They work day and night to protect Canada's valuable cyber assets as well as work alongside public and private sectors to uphold cybersecurity in every which way.
Canadian Institute for Cybersecurity – Based at the University of New Brunswick in Fredericton, the Canadian Institute for Cybersecurity (CIC) is a comprehensive multidisciplinary training, research and development, and entrepreneurial unit inspired by the expertise of researchers in fields such as social sciences, business, computer science, engineering, law, and science.
The institute brings together a diverse set of researchers and practitioners that span across the academic spectrum. What the institute does is share ideas, create disruptive technology, and perform groundbreaking research to either defeat cybersecurity obstacles or wipe it out completely.
Their main goal, however, is to take a systematic approach in contributing to Canada's society and upholding its cybersecurity. Through problem-solving, researching, consultancy services, training, and providing students with career-related education and experience, they aim to become a transformational leader in the realm of Canada's, and possibly the world's, cybersecurity.
Major Companies in Canada that Focus on Cybersecurity
Below is a list of some of the most recognized cybersecurity companies in Canada.
CyberHunter Solutions Inc. – Cyber Hunter is a leading website security company that offers penetration testing, Network Vulnerability Assessment, and cybersecurity consulting services. For five years, the company has been loyally serving clients from Canada, the United States, and the Caribbean.
Their renowned work has been recognized by different industries ranging from healthcare, manufacturing, financials, food and beverage, legal, and even government. They've worked with a global clientele that boasts the names such as Toyota, FOKO Retail, Synergy, Iron Mountain, and more to unravel gaps in their digital security to further ensure their assets' safety.
Packetlabs – Packetlabs offers a variety of services ranging from penetration testing, web and mobile application testing, social engineering, red team exercises, and source-code reviews––all the while distinguishing the problems that may help exploit your businesses. At the end of the day, what they're valuing is what you value the most: your assets, data, and customers.
They offer their expert-level penetration testing to all kinds of clients: government, technology, financial, law enforcement, media, healthcare, and more. They find the weaknesses that are easy to overlook and find new ways to avoid them in networks.
TitanFile – Based out of Toronto, TitanFile is a secure file sharing and collaboration solution provider that enables professionals from highly-regulated industries such as legal, government, financial, healthcare, and insurance to send and receive confidential information with peace of mind.
The SOC-2 compliant platform is built with state-of-the-art security features such as encryption, multi-factor authentication, and ISO-certified data centers to keep information secure and private while it's in transit and at rest. TitanFile is also compliant with Canadian regulations such as PIPEDA, and AODA.
Share files and messages

securely

with TitanFile!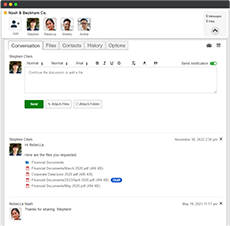 As easy to use as email for staff and clients
Lightning-fast upload speeds
Send files of any size. No storage limitations
Try TitanFile Free