Municipalities are responsible for representing the best interests of their citizens. From implementing bi-laws to managing daily business, it's their duty to provide the services required by those living within their boundaries. This also includes being prepared in case of an emergency.
The city of Swift Current is no different. This picturesque area, located in Western Canada, is known for it's vibrant downtown and well-maintained natural beauty. To residents of the region, it's also known for something else: annual flooding.
Each year, the city faces flooding that impacts its property and citizens. While the municipality has long had an emergency plan in place, it needed a better way to share important details on water levels around Swift Current. With many diverse stakeholders involved, ranging from the fire chief to provincial government employees, email was becoming difficult to manage. The group needed a solution that allowed for online collaboration, helped keep them organized and was easily adaptable for all involved. TitanFile was able to help them achieve their goal.
Learn how Swift Current used TitanFile to successfully collaborate online and keep all levels of stakeholders involved in the municipal preparedness strategy in our latest case study.
Share files and messages

securely

with TitanFile!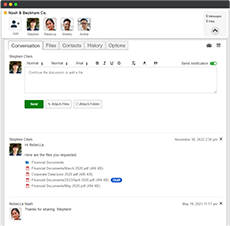 As easy to use as email for staff and clients
Lightning-fast upload speeds
Send files of any size. No storage limitations
Try TitanFile Free