Email is one of the most commonly used document-sharing channels present day. Since it is able to accommodate the transferring of practically any file type, email can address several different use cases within your company.
Although email is convenient and efficient, that doesn't change the fact it simply is not secure. Unfortunately, cybersecurity threats have increased since the onset of the pandemic. Many companies switched to remote work which meant a lot of information being uploaded to the internet – and hackers took advantage. Phishing attacks, the most common malware attack, have increased and a whopping 94% of malware is delivered via email in an attempt to steal personal information. Due to the lack of encryption and security provided by email, it's not very safe to share files via email. So how can you securely send files via email?
In this article, we will share pro tips for protecting your files and sharing them online.
Why Should You Secure Your Email Attachments?
Email attachments have sensitive information that is intended only for the recipient. However, experienced hackers can easily intercept the transmission, gain access to your data, and use it with malicious intent. This can be disastrous if the attachments have sensitive information such as credit card details, client data, or other sensitive information.
Currently, it's very easy for hackers to intercept electronic mail before it arrives in the intended recipient's inbox. Since email is not encrypted, any information travelling from one computer to the next can easily be stolen, altered, or damaged. That's why it's important to prevent these occurrences by taking the necessary precautionary measures to avoid information leakage.
What Type of Documents Can You Send Via Email?
Many email providers allow you to send different file formats as email attachments. In fact, you can send any file if it does not exceed the size limit set by the provider. For example, Gmail file attachments should not be more than 20 MB.
.word and .pdf are the most common file types people add as email attachments, but the list is long. You can send any of the following:
Text files (.doc, .docx, .txt)
PDF documents (.pdf)
Presentations (.ppt, .pptx)
Spreadsheets (.xls, .xlsx)
Images (.jpeg, .png, .gif)
Sound files (.mp3, .m4a)
Video files (.mp4, .mov, .avi)
eBooks (.mobi, .epub)
How To Securely Send Documents Via Email
How can you make sure the files you attach to emails are secure? Here are some of the most effective ways:
1. Create a Strong Password for Your Email Account
Many people use one password for all their online accounts. In a survey conducted by SecurityAuth, nearly 53% of respondents admit to reusing the same password across multiple accounts. Reusing passwords is not the best digital hygiene since you risk the security of your accounts – In the event that a cyber attacker manages to hack your Dropbox password, which happens to be the same password as your email, it'll be very easy for a hacker to steal both accounts. Remember all the emails and files attached files sent or received are stored in your account? If someone correctly guesses the password, they get unlimited access to your inbox, outbox, and customized folders.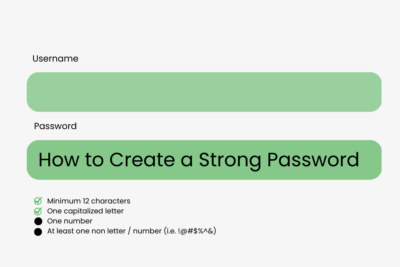 There are several tried and true methods to create a strong password. It's highly recommended that you use an online password generator, passphrases, and most importantly, avoid re-using passwords across multiple platforms.
2. Password Protect Your Documents Before Adding them as Attachments
Word (.word) documents and PDF (.pdf) files are the most common file types shared via email. It's important to learn how to password-protect these file types to protect their information security before they are shared and traverse the internet. Learning how to send PDFs securely via email should be a priority.
Did you know you can password-protect your word document, pdf file, and zip files? Here is how to go about it!
How to Password-Protect Word Documents
Open the document you would like to protect.
Go to File → Info → Protect Document → Encrypt with Password.
Type a password, then retype it to confirm.
Save, and you are done!
How to Password-Protect PDF Documents
Open the PDF you'd like to password-protect in Adobe Acrobat.
Select Tools → Protect.
You can either restrict file editing or encrypt it with a password.
Click OK and select Save.
How to Password-Protect Zip Files
There are downloadable tools online specifically for the use of password-protecting zip files. For this article, the procedure outlined below is for WinRAR software, it uses the most advanced AES-256 encryption technology, which is nearly impossible to penetrate.
The steps for password-protecting zip files may be different if you use other tools*.
Right-click on the file or folder you want to password-protect and choose "add to XXX.rar," where XXX is the file name.
A zip file with a .rar extension will be added to the same directory as the original one. Click on it and select 'set default password'.
Enter your preferred password using the best practices outlined earlier, and click OK. Remember this password, you will be required to enter the same password each time you wish to access the file.
Note: You can also choose to encrypt the file names for added protection.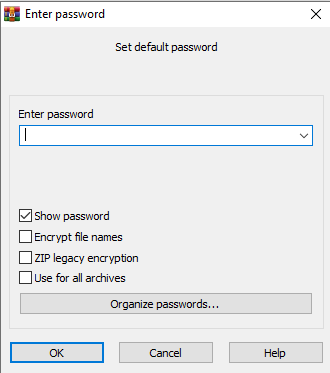 3. Use Encrypted File-Sharing Software
To skip the hassle of password-protecting files, many professionals opt for encrypted file-sharing software which automatically encrypts documents for optimal protection. Common email service providers such as Gmail and Outlook do not offer basic encryption to protect your documents or email content. That makes the data being transmitted vulnerable to cyber threats.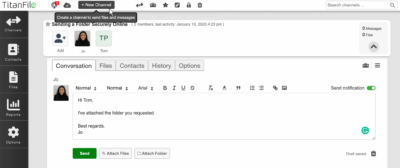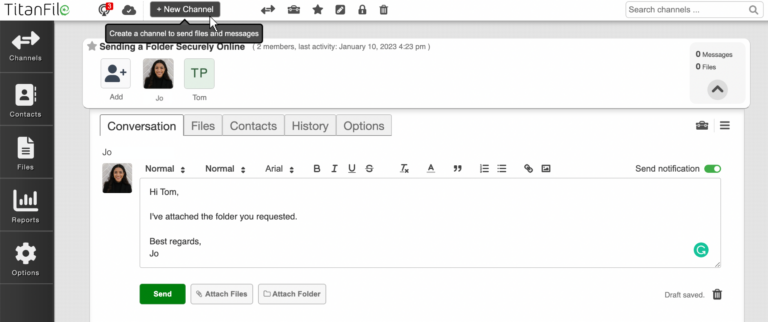 Alternatively, select secure file-sharing software offers automatic encryption to share files of any size and type and keep them protected in transit, at rest, and end-to-end. There are many affordable and safe options to choose from, which include the following:
About TitanFile
Many users have made the switch from the big players to TitanFile since it's as easy to use as email and secure. Unlike other solutions, TitanFile was designed with the user experience in mind; whether you're a more technical user or a beginner – TitanFile has a high user adoption and is simple to use. For security, TitanFile is ISO 27001 and  SOC 2 Type 2 certified, as well as PIPEDA, GDPR, and HIPAA compliant to ensure your personal information is kept confidential.
If you're hesitant to make the switch from email, TitanFile's Outlook Plug-in allows you to send encrypted emails directly from your Outlook inbox while also bypassing file-size restrictions.
Right now, TitanFile is offering a 15-day free trial. See why government agencies, legal, and accounting professionals have made the switch. There's never been an easier, more secure way to send files than with TitanFile.
Share files and messages

securely

with TitanFile!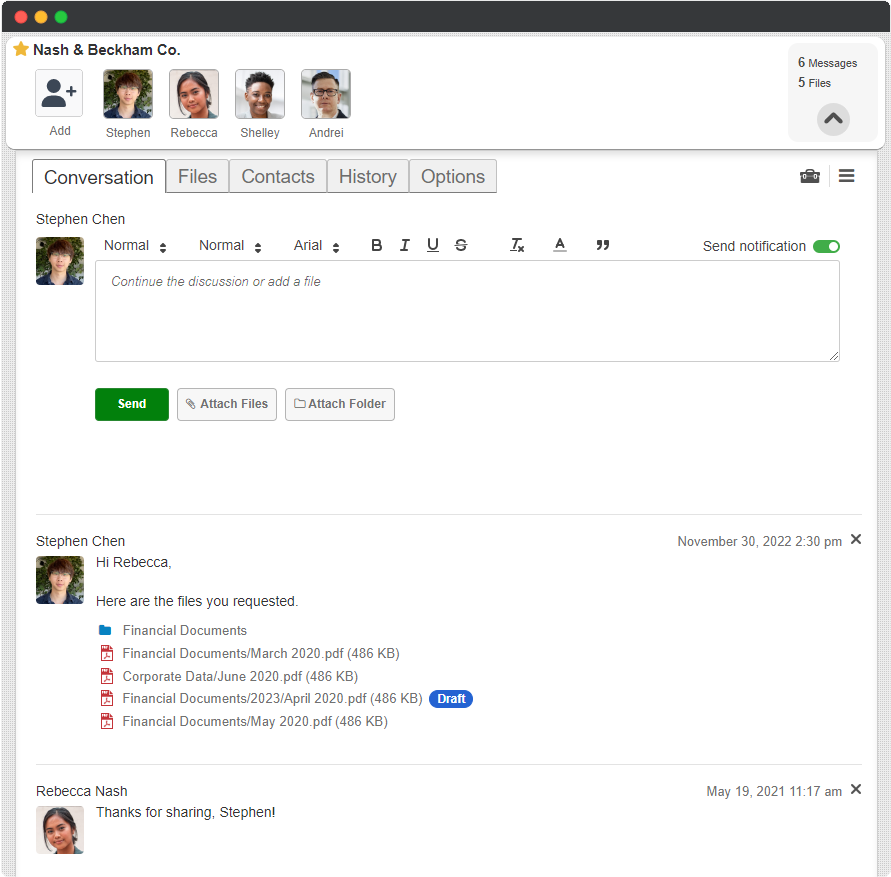 As easy to use as email for staff and clients
Lightning-fast upload speeds
Send files of any size. No storage limitations
Try TitanFile Free