Whether you're an accountant, a human resource specialist or an insurance provider you probably find yourself wishing you had a better way to securely collect documents from clients. Presently you're more than likely receiving files via courier, email or in-person. Wouldn't it be better to give clients the ability to submit all their documents in one secure location? Now they can with the TitanFile Secure Deposit Box.
The TitanFile Secure Deposit Box gives organizations a webpage that serves as an online repository, allowing visitors to the page to securely submit files and messages. In a similar format to sending an email attachment, the Secure Deposit Box is user-friendly, and prominently features the organization's branding. You can see an example of TitanFile's own corporate Secure Deposit Box in the feature image above.
Many companies have a defined busy season. If you happen to work in an accounting firm, it's tax time. Easily manage the influx of documents received during tax season with the Secure Deposit Box. Reduce the transmission of paper copies of sensitive documents, and instead encourage clients to upload their files to your TitanFile Secure Deposit Box, ensuring a smooth and secure transaction.
Best of all there's no steep learning curve. In much the same way that you would attach a file to an email message, clients can send and submit their file. By simply providing their name, email address and a short message to accompany their file or files, unregistered visitors can send you files securely.
Learn more about the TitanFile Secure Deposit Box.
Share files and messages

securely

with TitanFile!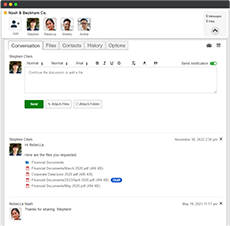 As easy to use as email for staff and clients
Lightning-fast upload speeds
Send files of any size. No storage limitations
Try TitanFile Free