If you routinely follow this blog you've already heard me sing the praises of online collaboration. Working for an organization that has employees in diverse locations, I'm reliant on cloud computing and collaboration to connect with co-workers. And according to a survey conducted by Forbes Insights and Cisco, I'm not the only one.
The results from the survey reveal that collaboration enables innovation and helps connect parties that aren't in the same location – let alone time zone. The Forbes/Cisco survey also states that "fifty-eight percent of total respondents … say cloud-based collaboration has the potential to improve business processes such as purchasing, manufacturing, marketing, sales and technical support." That stat holds the promise of a big boost in business efficiency, regardless of industry or department. Organizations aren't limiting their online collaboration to just internal communication, either. An increasing amount of businesses are using digital collaboration to connect with external parties – leading to lasting connections, increased client trust, clear communication tactics and higher efficiency. 
I'd be lost without a means to connect with my co-workers. Here's just a snippet of the role collaboration plays in my day:
Upon arrival at the office, I take a moment to scan the headlines to see if there's any breaking stories in the security space. After that, I check to see if our graphic designer, who's in another office, has provided art for our latest project. Not only is he in another location, he's also in a different timezone, so there's usually work waiting for me that's been completed after I've already left the day before. Noticing that he has shared the file with me, I take the time to reach out to him with a small change I need made, and send the document back to him and another co-worker involved in the assignment. I also check in to see how he's making out with his new puppy – who can resist puppy talk in the morning? After completing some other individual projects I have on my to-do list, I connect with another co-worker in the afternoon to see if he's made any headway on a task we're working on together. After we've shared our updates we make plans to reconnect later in the week to see if we have any further questions.
It's clear that online collaboration plays an important role in my day. I'm lucky to have access to tools that enhance my success, and to work with a team that values sharing and communicating as much as I do.
How does online collaboration benefit your business? Let us know in the comments below.
Share files and messages

securely

with TitanFile!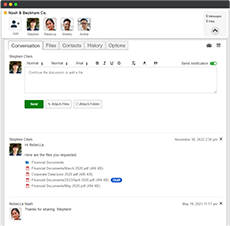 As easy to use as email for staff and clients
Lightning-fast upload speeds
Send files of any size. No storage limitations
Try TitanFile Free