What is Secure Submit?
Secure Submit is a secure web form by TitanFile that enables you to receive files easily and securely from your clients or other external parties. It's the easiest way to receive files securely.
Files uploaded through Secure Submit are encrypted in transit and at rest to prevent unauthorized access. Only you (the intended recipient) will have access to the files submitted.
What makes it the easiest way to receive files securely?
When you're searching for the easiest way to receive files securely, there are three factors you must consider:
1. Ease of use and convenience
Ideally, it should require the least number of steps and time for both the sender and receiver. A solution that's too difficult to use will result in increased frustration for both parties.
2. Security
The solution must encrypt data to protect client information and help you comply with privacy regulations. It's better if the data is encrypted both in transit and at rest for maximum security. You should also have a choice of where data resides once it is submitted.
3. Support for large files
It can't be the easiest way to receive "files" if you're only able to receive small files. In some cases, you may have to receive large documents or other files that are gigabytes in size.
Challenges with other file sharing methods
Now, let's break down some of the ways you're receiving confidential files today and see why they're not ideal:
Email – Email is the standard for correspondence and small file sharing with clients, however, it's not a very good option when it comes to security. Files sent to you via email are normally not encrypted and can be easily intercepted by hackers and put confidential client information at risk. In addition, email doesn't support large file sharing by default. Users of this platform are limited to file attachments of 25MB or less which means they can only send small files.
Unsecured submission forms – Most embed submission forms on websites don't have built-in security meaning at no stage of the submission process are the files encrypted. Similar to email, files can be intercepted with files that are transferred through submission forms. Depending on how the form is integrated, it may or may not support large files.
Courier – Receiving files through courier may very well be one of the worst ways to receive files from clients. It can take days for delivery and when a package gets lost, you won't know who has the confidential information. Your clients will also need to go out of their way to drop files off at a mailbox or post office. If they include storage devices for large files, the devices can be damaged during transit.
In-person delivery – There's nothing more cumbersome than making your clients personally deliver documents and files to you. With so many online solutions out there today, it's unnecessary to have information hand-delivered to you.
Here's a table to summarize the methods of receiving files we discussed above:
| | Easy/Convenient | Secure | Large file sharing |
| --- | --- | --- | --- |
| Email | ✓ | x | x |
| Submission forms | ✓ | x | Yes and No |
| Courier | x | x | ✓ |
| In-person delivery | x | ✓ | Yes but a storage device is required |
As you may have noticed, all of these methods are lacking in at least one of the following areas: ease-of-use/convenience, security, or large file sharing.
Secure Submit excels in all three of these areas and is what makes this method the easiest way to receive files securely.
Start receiving files with Secure Submit today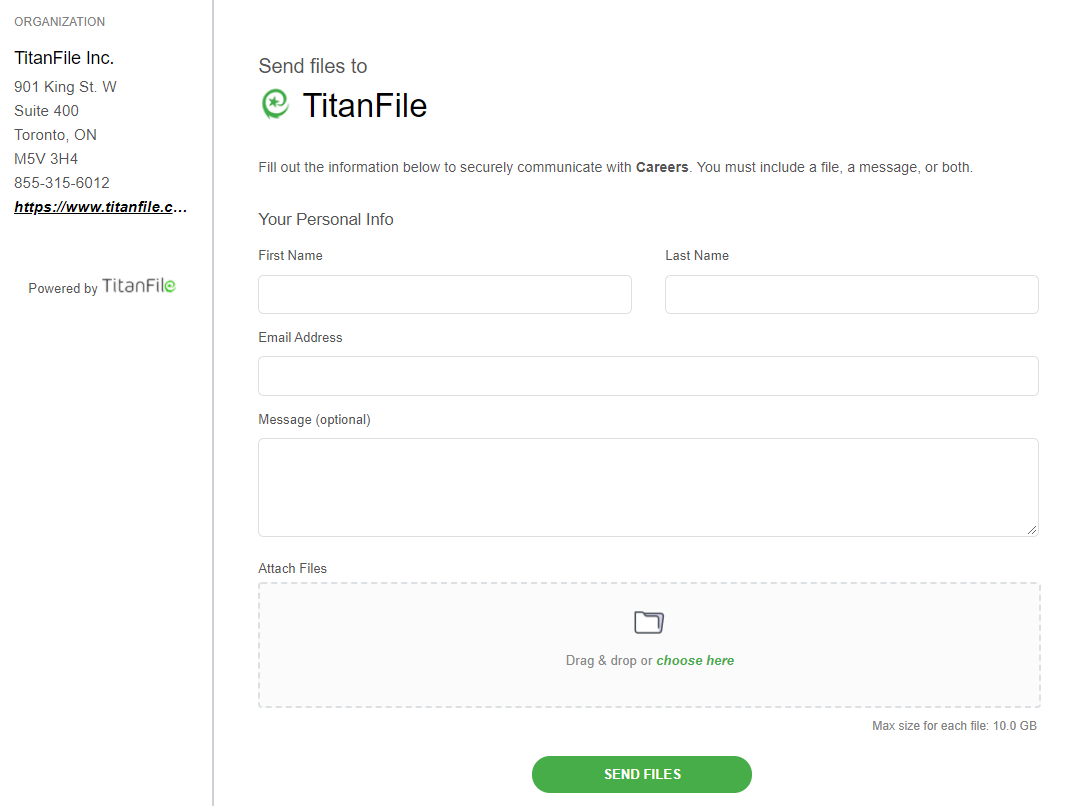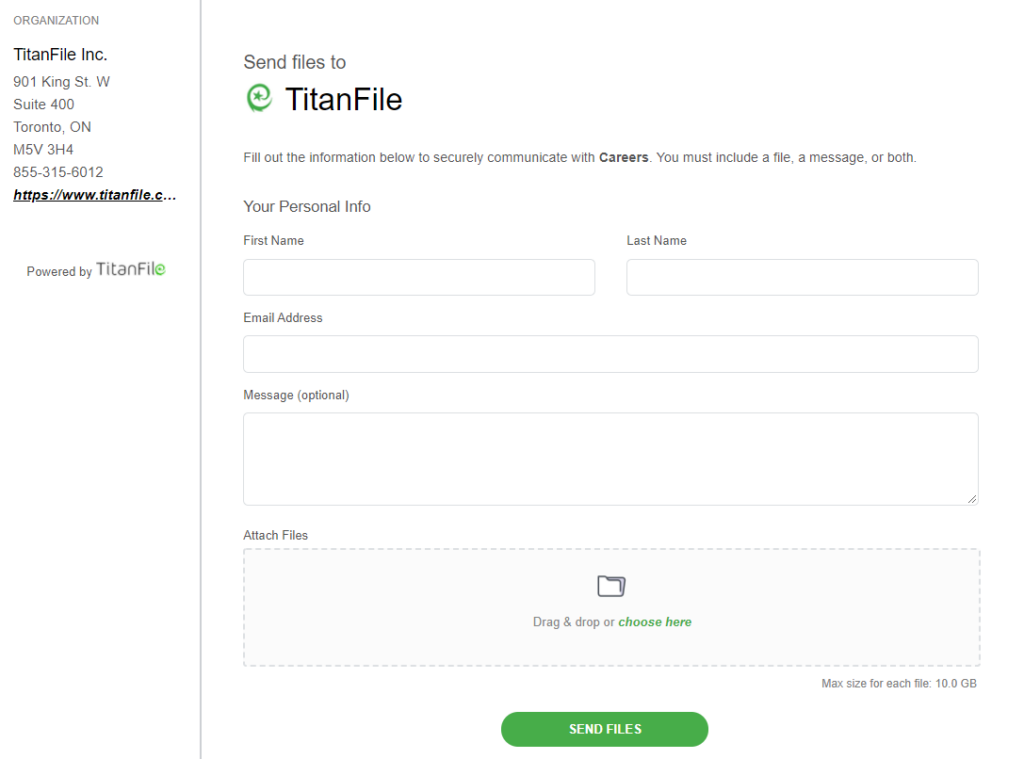 We invite you to try TitanFile's Secure Submit feature.
With Secure Submit, all you need to do is send your contacts a link. They'll fill out a short form with their contact information, attach files, and click send. It's that simple.
Whether you're an attorney, accountant, or financial advisor, Secure Submit is the easiest way for you and your team to receive files securely.
Here's how TitanFile's Secure Submit feature meets the requirements of the three factors we discussed above:
Ease-of-use – For you, it's as simple as providing a link to your clients. For your clients, it's as simple as them filling out a form and attaching files. No extra steps are required!
Security – The submitted files are encrypted with enterprise-grade encryption while in-transit and at rest.
Large files – Clients can upload gigabytes worth of files at blazing-fast speeds.
You'll also love Secure Submit for these reasons:
It can be embedded onto your website and custom branded
Your staff members get their own individual Secure Submit links
You receive notifications when files are submitted
How to set up Secure Submit
First, sign up for a trial of Secure Submit here. No credit card is required.
After you sign up, we'll send your own personalized Secure Submit link within 1 business day.
When you access your Secure Submit link, you'll see a form that looks like this: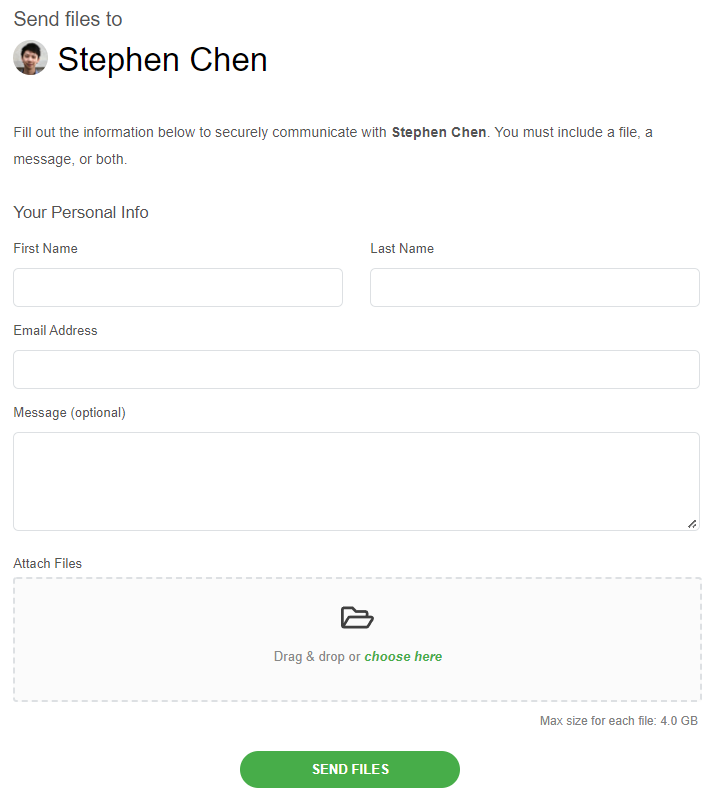 You can share this link with anybody outside of your organization whom you need to receive files from. Once the person fills out the form and clicks "Send Files", you will receive an email notification: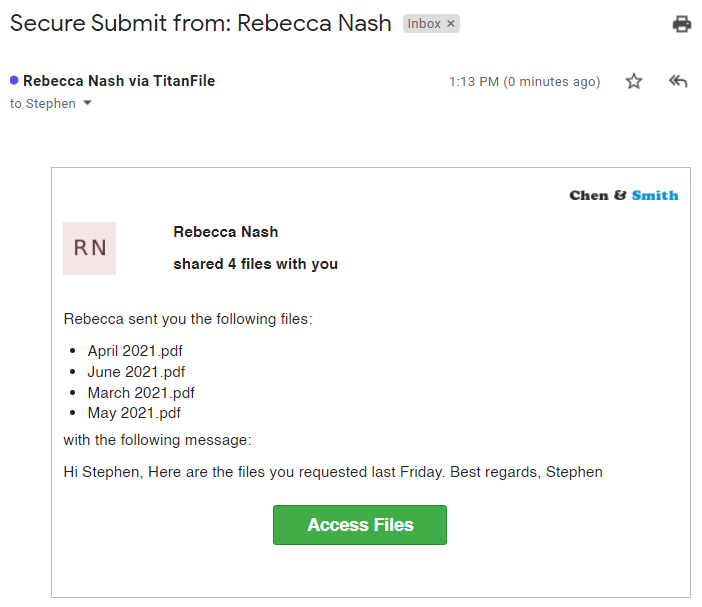 When you click on the Access Files button, you'll be taken to a secure portal where you can download the files attached.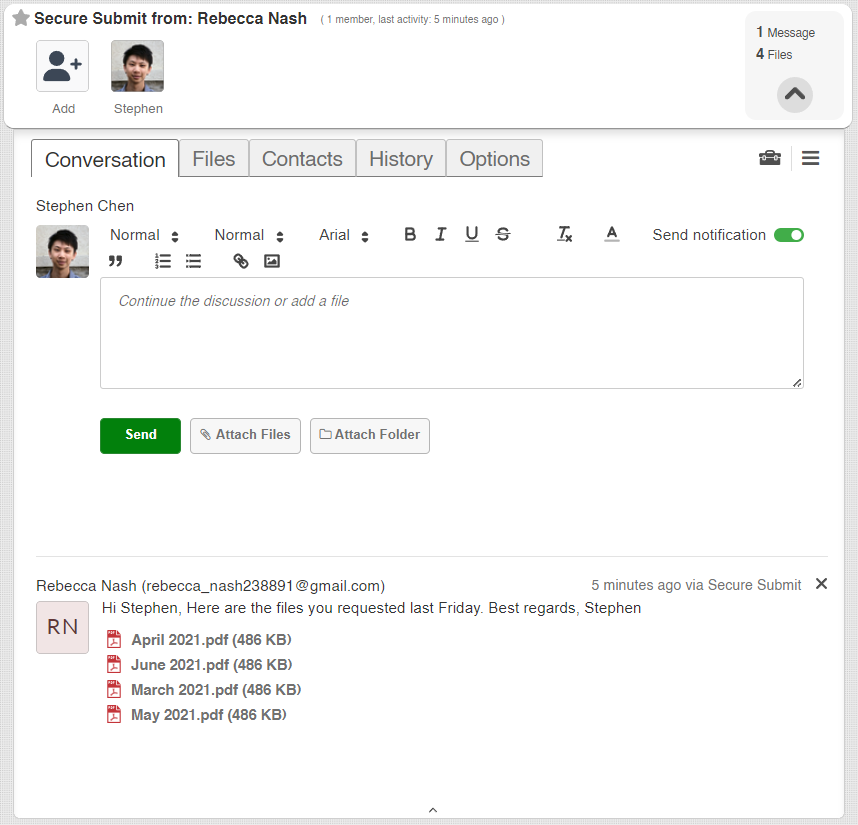 And that's it!
Start receiving files through Secure Submit today.
Share files and messages

securely

with TitanFile!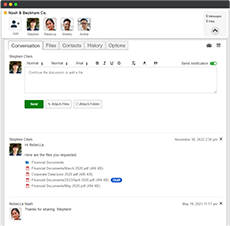 As easy to use as email for staff and clients
Lightning-fast upload speeds
Send files of any size. No storage limitations
Try TitanFile Free