TitanFile will attend Legaltech Toronto, a trade show for law firms and legal departments to get hands-on information about the latest relevant technology.
As part of a series of trade shows, Legaltech Toronto explores how legal professionals can best adapt to the rapidly-changing technological landscape. Among a variety of challenges, TitanFile addresses the need for simple and confidential correspondence.
Our President and COO, Dr. Tony Abou-Assaleh, will participate on a panel entitled "Security Reboot – Proactive Strategies to Strengthen Governance and Security Oversight" on Wednesday, Sept. 21, at 11:30am.
Panel Description
Panama Papers, the biggest leak in history involving 11 million con dential documents and 2.6 terabytes of data, was preventable. Stop your organization from being the next headline. Structure a multi-tier security framework to reinforce privacy and avoid data loss.

• Understand what technologies you should have in place
• Improve prevention with auditing and process control
• Raise user awareness and drive behavioural change
• Ensure due diligence in vendor selection
• ISO certification: is it right for your organization?

Combine technology and education to eliminate weak links in your security.
What: Legaltech Toronto 2016
Where: Metro Toronto Convention Centre, 222 Bremner Boulevard
When: Sept. 21 and 22, 2016
Registration: https://www.legaltechcanada.com/registration/
Share files and messages

securely

with TitanFile!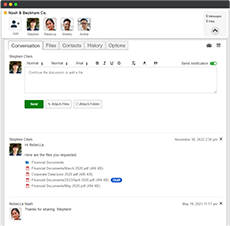 As easy to use as email for staff and clients
Lightning-fast upload speeds
Send files of any size. No storage limitations
Try TitanFile Free