TORONTO, ON – June 29th, 2020 – TitanFile Inc., a Canadian secure file sharing and collaboration solution provider, announced today that its platform is fully compliant with the Accessibility for Ontarians with Disabilities Act (AODA) and Web Content Accessibility Guidelines (WCAG) 2.0 Level AA standard.
The AODA is a statute enacted by the Legislative Assembly of Ontario, Canada in 2005 to ensure its goal of an accessible, barrier-free Ontario by 2025. As a requirement of the act, public, private, and non-profit organizations must adhere to WCAG 2.0, which is a set of standards created by the World Wide Web Consortium (W3C), by January 2021. The guidelines aim to make web content more accessible to people with disabilities.
As a leader in providing software that's accessible and easy to use, TitanFile decided to make accessibility changes well ahead of the WCAG 2.0 deadline. To begin the process, TitanFile engineers first evaluated the platform to understand its position with WCAG 2.0 Level AA compliance by using automated testing tools and manual testing to measure over 50 success criteria. After identifying areas of improvement, the team addressed the shortcomings by implementing best accessibility practices and pushing out a product update out to TitanFile users. Some improvements to TitanFile's accessibility include changes to the platform's readability, contrast ratios, and platform navigation, as well as adding support for assistive technologies such as screen readers.
" TitanFile was founded on the belief that security should be easy and accessible. We understand that TitanFile is a mission-critical application for many organizations and our goal is to continue to provide a high-quality, accessible experience to everyone that relies on our platform for sending and receiving confidential files and messages. "

– Tony Abou Assaleh, President and CEO of TitanFile
TitanFile fully supports W3C and plans to continue to lead by example by proactively implementing changes over time to address existing and new accessibility concerns.
About TitanFile
TitanFile is an award-winning secure messaging and file sharing platform for external correspondence among professionals, their support staff, and clients. TitanFile is as easy to use as email, resulting in increased efficiency, cost savings, and higher customer satisfaction while improving security and compliance.
For more information, please visit www.titanfile.com, or call us at 1-855-315-6012.
Share files and messages

securely

with TitanFile!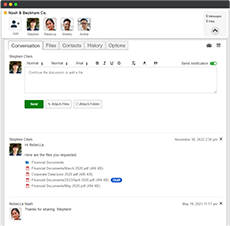 As easy to use as email for staff and clients
Lightning-fast upload speeds
Send files of any size. No storage limitations
Try TitanFile Free