TORONTO, ON – August 20th, 2019 – TitanFile Inc., a secure file sharing and collaboration platform focused on the legal industry, today announces a revolutionary way for attorneys and support staff to improve client collaboration and save time when working with large amounts of data. The feature that makes this possible is the drag and drop unrestricted folder uploads.
TitanFile already addresses a lot of challenges around client collaboration by enabling a secure and easy way for legal professionals to exchange files and messages. With its latest release, TitanFile re-enforces its title as the most intuitive secure file sharing and collaboration solution on the market.
TitanFile's folder upload feature completely overcomes the challenges legal professionals face when sharing large files such as 30GB production, of complex folder structures with hundreds of subfolders. With unlimited file sizes and unlimited storage in TitanFile, attorneys and their support staff can securely share folders from their computers without the help of IT. Combined with TitanFile's blazing-fast upload speeds, folders that may normally take several hours to share can be accomplished in a matter of minutes. This new enhancement completely eliminates the need to pre-zip folders and files, resulting in significant time savings.
"TitanFile is committed to providing its clients with the most seamless and intuitive way to collaborate with clients," says Tony Abou-Assaleh, president and COO of TitanFile. "The enhancements give our clients the power to share hundreds or thousands of files as easily as if they were sharing one."
On the receiving end, recipients will have access to all of the contents of the folder and can choose which files to download — whether it is a single file, a sub-folder, or the entire folder. Documents and images can be previewed first before downloading. Consequently, recipients have the option to download only what is needed at any given time and not have to store the entire folder on their local computers or mobile devices.
For further productivity, legal professionals can use TitanFile's folder and file management capabilities inside the platform to create folders and subfolders, rename and delete files, and move files between folders with a simple drag-and-drop. Users can also revise files and re-upload them back into their original folders while maintaining access to previous file versions with TitanFile's automatic version control for files.
TitanFile will be showcasing these collaboration-enhancing features on August 20th – 22nd at the annual International Legal Technology Association Conference (ILTACON) in Orlando Florida. Victor Abou-Assaleh, the director of business development, will be on-stage at the ILTA Education Hub to share his insights with the audience on the topic of "Secure File Sharing for Today's Law Firm" on August 21st between 11:00 am – 11:20 am.
TitanFile's leadership and product experts will also be available to showcase the new functionality and answer questions at booth #625 at Swan and Dolphin Resort in Orlando, Florida. Learn more.
About TitanFile
TitanFile helps attorneys and support staff securely exchange messages and large and sensitive files with clients, experts, and opposing counsel. TitanFile is as easy to use as email, increasing staff productivity and simplifying client collaboration while improving security and compliance.
For more information, please visit www.titanfile.com, or call us at 1-855-315-6012.
Share files and messages

securely

with TitanFile!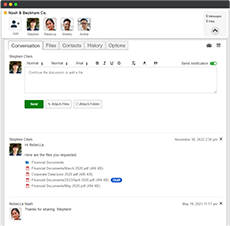 As easy to use as email for staff and clients
Lightning-fast upload speeds
Send files of any size. No storage limitations
Try TitanFile Free