TORONTO, ON – August 21, 2018 – TitanFile Inc., a secure file sharing and correspondence platform for legal professionals and other businesses, today announced the release of a product update that significantly simplifies sharing large amounts of data while providing an effortless way to maintain data security and comply with regulations and policies. The two new major features in the update include the ability to send extremely large files in the Secure Send for Outlook™ and proof of notification reports for increased compliance.
Outlook Large File Attachments
TitanFile's new Large File Attach feature in Secure Send for Outlook™ overcomes the file upload limitations typically imposed by MS Exchange™ servers. Attorneys and their support staff can now files that are tens of gigabytes in size right from Outlook™, staying in the flow and improving efficiency. And with TitanFile's uncapped storage, users have the peace of mind that their confidential files will reach the recipient.
"Many of our clients were losing productivity with the file size restrictions imposed by Outook. We listened and I am happy to announce that their frustration is over. The Large File Attach can handle files of any type and any size ," stated Dr. Tony Abou-Assaleh, president and COO of TitanFile. "We are a client-driven company and we when our clients provide us with feedback we turn them into deliverables."
Email Delivery Reports
Email Delivery Reports, one of the platform's new additions, helps litigators and attorneys create a proof of notification. This feature captures the response code from the recipient's email server, creating a reliable record that an email notification was in fact delivered to its destination. The email delivery reports can be produced in CSV or PDF format, and filed in the firm's document management system along with a copy of the message sent.
"TitanFile already includes features that help clients with regulatory compliance, such as HIPAA, GDPR, PCI, and PIPEDA," says Chris Stoate, CEO of TitanFile. "The email delivery reports are just another example of our ongoing commitment to supporting our clients in their record keeping and compliance needs."
These new features along with many of TitanFile's other functionalities will be showcased on August 21 – August 23 at the International Legal Technology Association's annual conference ILTACON in National Harbour. TitanFile is expanding its participation at ILTACON this year. On Tuesday, August 21, TitanFile is pleased to co-host the International Reception. TitanFile's president and COO Dr. Tony Abou-Assaleh, joined by Mr. Victor Abou-Assaleh, director of business development, will present an education session on how today's law firms share confidential files. TitanFile's leadership and product experts will be available to answer questions, explain use cases, and present product demos at booth #1013 at the Gaylord National Resort & Convention Center.
About TitanFile 
TitanFile is an award-winning secure messaging and file sharing platform for external correspondence. Attorneys and support staff use the TitanFile platform to securely exchange messages and large and sensitive files with clients, experts and opposing counsel. TitanFile is as easy to use as email, increasing staff productivity and simplifying client collaboration while improving security and compliance. For more information, please visit https://www.titanfile.com.
Share files and messages

securely

with TitanFile!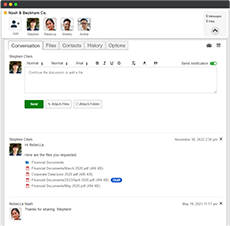 As easy to use as email for staff and clients
Lightning-fast upload speeds
Send files of any size. No storage limitations
Try TitanFile Free