TitanFile Inc., a secure file sharing and correspondence solution provider for many of the top law firms in the U.S. and Canada, announces their attendance at Legaltech 2020 – the largest and most important legal technology event of the year.
The conference will be held from February 4th – 6th at the New York Hilton Midtown Hotel. During the 4-day trade show, many legal professionals will gather to get hands-on information about the latest and most relevant technologies to help them better adapt to the rapidly-changing technological landscape. Technology solutions providers will have the opportunity to share their knowledge and solutions with different law firms.
One of the featured keynote speakers scheduled to speak at Legaltech is a former Deputy Attorney General of the United States who will talk about the importance of separating politics from the rule of law and the evolving role of the Department of Justice/Law Enforcement in light of the ever-present cyber, foreign and other threats.
To join in on this valuable opportunity to network and potentially form new partnerships, register for Legaltech on their registration page.
TitanFile at Legaltech
As an annual attendee and supporter of Legaltech and its community of like-minded legal professionals, TitanFile is looking forward to sharing their knowledge and experiences of sharing confidential data on the cloud and keeping it secure.
Meet TitanFile at Legaltech 2020.
TitanFile is an award-winning secure messaging and file sharing platform for external correspondence among attorneys, support staff, clients, and other professionals. TitanFile is as easy to use as email, resulting in increased efficiency, cost-savings and higher customer satisfaction while improving security and compliance. For more information, please visit www.titanfile.com, or call us at 1-855-315-6012.
Share files and messages

securely

with TitanFile!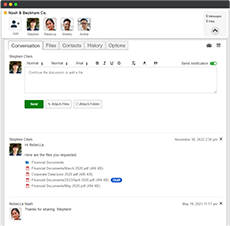 As easy to use as email for staff and clients
Lightning-fast upload speeds
Send files of any size. No storage limitations
Try TitanFile Free